Ryan Joseph Ramos
July 6, 2013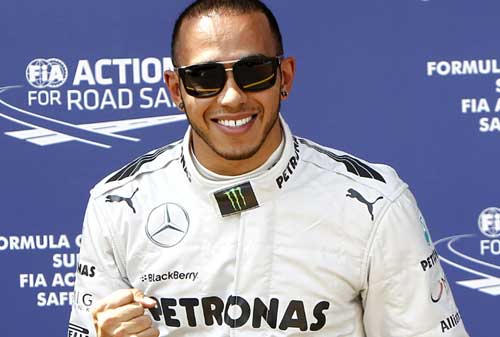 Lewis Hamilton gets one more shot on Sunday. The Mercedes AMG Petronas driver took his second-straight pole position at the qualifying for the 2013 German Grand Prix, and he'll surely go hard to get a better result than fourth place this time around.
Overall, this is the 29th career pole for the Brit, and this puts him in a tie with Juan Manuel Fangio for first on the list of most number of career pole positions. Interestingly, this is also the first Mercedes-Benz pole in the German Grand Prix since Fangio did it in 1954.
Qualifying was a mixed bag for the Mercedes F1 team, though, because Nico Rosberg couldn't even get into the top 10. He settles for P11 on the grid after the team misjudged just how much the circuit conditions improved during Q2. He had to watch as other drivers made superb runs on a ramped-up track.
Hamilton was P5 after Q1, and P6 in Q2. The pole position is a very nice acquittal of Hamilton, who struggled in the practices somewhat after some tweaks to his car.
"We were so far off this morning that we took the set-up back to where we started, tried to analyse everything and just worked really hard to improve it," said Hamilton. "I'm so grateful for the work the engineers and mechanics did for me, and it's all down to them really." He added that the real work is yet to come, and that's on race day.
Right after Hamilton are the Red Bulls of Sebastian Vettel and Mark Webber, followed by the Lotus cars of Kimi Raikkonen and Romain Grosjean. Daniel Ricciardo is in P6, followed by the Ferraris of Felipe Massa and Fernando Alonso. Jenson Button of McLaren-Mercedes and Sauber's Nico Hulkenberg round out the top 10.
This puts Hamilton in good position to get closer to the top 3 in the drivers' championship race. With 89 points so far, he only trails Raikkonen by 9 points. Vettel (132 points) and Alonso (111 points) are a bit farther away, but a win here will surely go a long way. Let's see if Lewis can capitalize on this pole position.