Ryan Joseph Ramos
July 27, 2013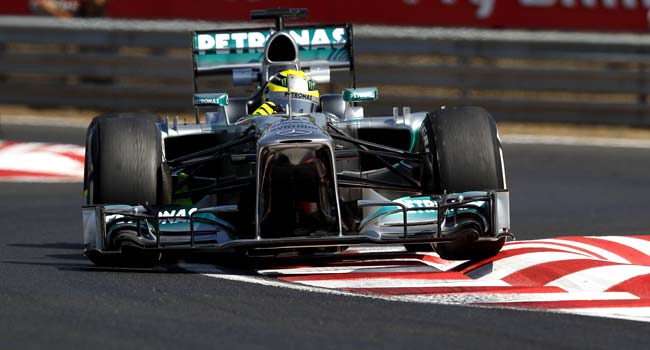 Qualifying is now on for the 2013 Hungarian Grand Prix, and so far, the Mercedes cars are doing well in Q1 as Nico Rosberg and Lewis Hamilton finish one-two. There's still Q2 and Q3, though. We'll recap the results later, but let's take a look back at the practice sessions at the Hungaroring for now.
While both drivers weren't in the best of shape in the first free practice on Friday morning, they rounded into better shape by the afternoon session. Rosberg was P8 with 1.23.531, while Hamilton was P13 in Practice 1, with 1:24.157. For practice 2, Rosberg improved to P7, with 1:21.991, while Hamilton was P6 with 1:21.802.
In the final practice, they couldn't really improve much on their pace, but at least it looks like they're capable of getting into the top 10 at the very least. Hamilton set the pace for a bit, but could only get a lap time of 1:21.158, good for sixth best. Rosberg was eighth (1:21.356).
It's easy to see why the Mercedes drivers struggled mightily during the first sessions. Keep in mind that this is the first on-track experience the Mercedes team has on the new Pirelli tires, as they have been banned from testing on these tires at the Young Driver Test a couple of weeks back because of their involvement in what has come to be called TyreGate.
"It's difficult to know how the weekend will go for us," said Hamilton. "Others look quick here but we can generally pull a bit more out in qualifying so let's see how tomorrow goes."
Rosberg pointed out the challenges of being under the kind of hot conditions they experienced at the Hungaroring, though he did say that he was pleased with the team's progress on the new tires even in just a short span of time.