Ryan Joseph Ramos
July 14, 2013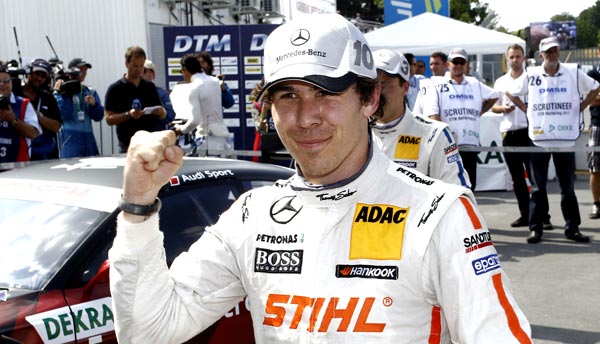 After 83 laps at the Norisring, Mattias Ekstrom was the first to cross the finish line. However, the apparent race-winner was excluded from the results by the stewards following an alleged violation of the DTM Sporting Regulations. In turn, Robert Wickens took home his first DTM race win and two other Junior Team drivers joined him on the podium.
Completing the triple victory are Christian Vietoris, at second, and Daniel Juncadella, at third. Audi, however, will be appealing the stewards' decision, so right now, this is a provisional result.
If the standings stick, this would be a perfect showing for the Mercedes-Benz DTM team, which is celebrating its 25th anniversary in the DTM motorsport event.
This makes Wickens' second podium finish of the season, and Vietoris made his third podium appearance. Juncadella nabbed his first podium finish in the DTM after just five races. In addition, Roberto Merhi finished at P6.
Gary Paffett received a suspended penalty for his involvement in a collision during the closing laps of the race. The suspended penalty coveres two races; if Paffett makes another violation within that period, he will receive a 5-place grid penalty.
The next DTM race won't be until August 3-4, the first DTM race in Russia's Moscow Raceway. That should be an exciting race, so do check back with us for complete coverage of the action!