Ryan Joseph Ramos
July 26, 2013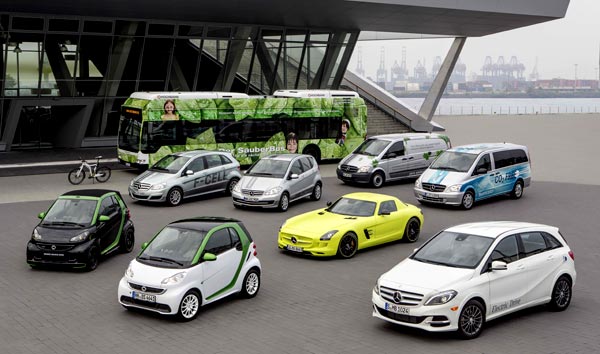 In the first half of 2013, Daimler AG took the top spot in German in terms of electric cars, with electric-powered Mercedes-Benz models combining with smart brand sales to achieve a 42 percent overall market share.
The pace-setting smart brand was responsible for 983 units registered during the aforementioned period. That alone accounts for a market share of 40 percent. In addition, smart was also able to grow its electric-powered unit sales by some 80 percent compared to the same period in 2012.
Daimler banks on smart to become its 'trailblazer in electric mobility', primarily through the smart fortwo electric drive that's complemented by some tuned models and an e-bike.
Daimler also provides the Mercedes-Benz product line with a number of Electric Drive variants, from the B-Class Electric Drive all the way to the high-end Mercedes-Benz SLS AMG Coupe Electric Drive that was introduced at the 2012 Paris Motor Show. There's even the B-Class F-CELL.
Apart from complete electric drive systems on cars, Mercedes-Benz also has a bunch of hybrid units like the E 300 BlueTEC HYBRID. The recently launched S-Class line also has the S 300 BlueTEC HYBRID for prospective buyers who are conscious of the sustainability of their vehicles.
Mercedes-Benz doesn't stop there. Even commercial vehicles are provided with hybrid, electric, or fuel cell technology. There's the Vito E-CELL, Fuso Canter E-CELL, Citaro FuelCELL Hybrid city bus, and an E-CELL Freightliner-brand truck in the US.