Peter Parcon
July 2, 2013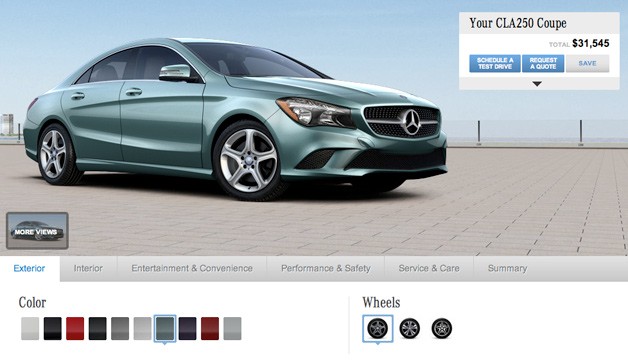 The online configurator of Mercedes-Benz was launched recently for its 2014 Mercedes-Benz CLA-Class model. This will allow potential owners the opportunity to build their own version of the sedan that is set to be released in the US market within the year.
For the moment, only the front-wheel-drive Mercedes-Benz CLA 250 is available although a 4Matic model may be offered by the German luxury vehicle manufacturer in the future.
The price tag of the latest offering of Mercedes-Benz starts at $30,825. It can be enhanced with the Sports Package for an additional $2,000. The panoramic roof will require an add-on of $1,480 while the bi-xenon headlamp set and LED tail lamp are available at $850.
The interior can also be enhanced with leather upholstery at $1,500. Ten color options are available for potential owners of the 2014 Mercedes-Benz CLA 250 as well as three wheel options. The cost of the color options can range from $720 to $2,500 while the 18-inch 5-spoke wheel set costs around $1,800.
If you choose to have all the options included on your dream car, be ready to shell out around $50,000.