Ryan Joseph Ramos
June 15, 2013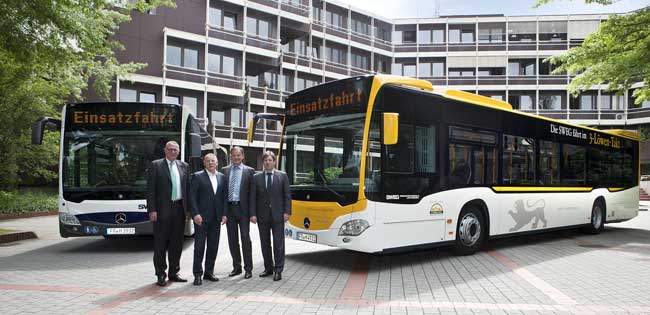 As part of the SWEG transport company's efforts to provide sustainable and comfortable transportation, it recently took delivery of four Mercedes-Benz Citaro buses that have Euro VI-compliant engines. This way, the company achieves a truly environment-friendly bus service.
Tammo Voigt, Mercedes-Benz Buses & Coaches Head of Public Transport Fleet Sales, personally handed the four Citaro units last June 12 to SWEG board spokesman Johannes Müller. The delivery was done with Winfried Hermann, the Baden-Württemberg tansport minister, and Frank Scherer, the Ortenau administrative district's chief executive.
Among the four units delivered is a special design concept that's based on some future rail vehicles for use in Baden-Württemberg. It comes with the region's colors for the exterior and interior, as well as the regional coat of arms. It's dubbed the 'Three Lions in Motion' design.
Aside from having their Euro VI-compliant engines, the Citaro units also get fuel economy boosts thanks to a 24-volt recuperation module, through which free electricity from overrun goes to the operation of the electrically powered accessories of the vehicle. This helps save fuel by reducing drivetrain load and minimizing fuel consumption.
SWEG stands for Südwestdeutsche Eisenbahn Gesellschaft, but it is now known as Südwestdeutsche Verkehrs-Aktiengesellschaft, which translates to 'Southwest German Transport Company'. It offers both bus and rail transport services, with the bus fleet comprised of 300 company-owned buses and 50 leased buses. The company replaces some 30 vehicles each year, and this boils down to a cost of about 7 million euros.