Ryan Joseph Ramos
June 14, 2013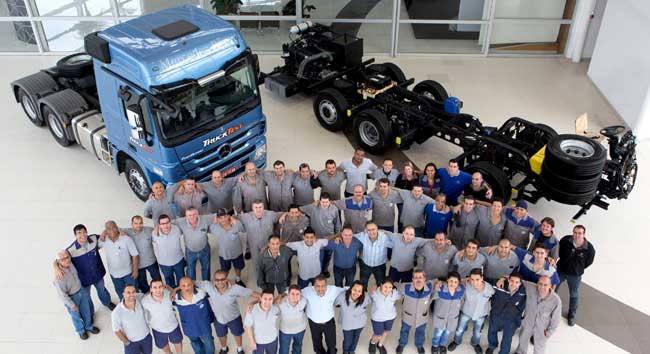 Mercedes-Benz do Brasil has just completed its two-millionth locally-made commercial vehicle, a milestone achieved in 57 years. That figure is comprised of some 1.4 million trucks along with 600,000 buses and chassis.
According to Mercedes-Benz Trucks Europe and Latin America chief Stefan Buchner, Daimler Trucks' operations in Brazil started "way before the country was considered an up-and-coming economy." He added that Brazil is currently among the brand's vital truck markets.
That is, of course, not just in sales but also in production, as underscored by the 2-million-unit milestone.
With around €540 million invested between 2010 and 2013, Mercedes-Benz do Brasil was able to prepare for some considerable growth. With new engine assembly lines, increased capacity, and the ability to develop fresh products and technologies, the operations in the country are really important for the brand as a whole, and it is positioned for long-term success.
In Brazil, Daimler Trucks posted sales figures of 15,820 units within the first five months of 2013. That's more than a 50% increase over the same period last year. Bus and bus chassis sales also grew by 46% within the same period in 2013 compared to 2012.
Mercedes-Benz do Brasil has three facilities: Sao Bernardo do Campo is responsible for truck, bus chassis, and truck cab production, along with the manufacture of engines, transmissions, and other major components. The Juiz de Fora facility produces the Actros and Accelo trucks shipped within the Latin American region. The Campinas facility has the training center, a call center, and a warehouse for spare parts.