Ryan Joseph Ramos
June 30, 2013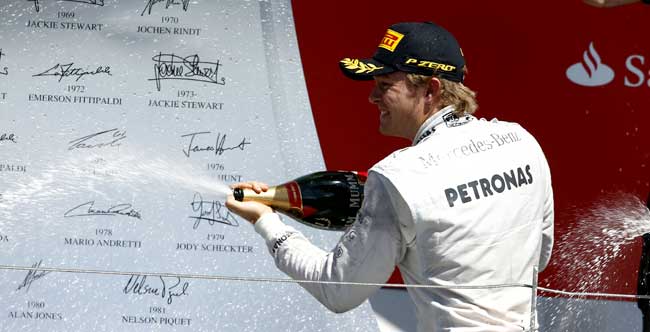 It was an important race for the Mercedes AMG Petronas F1 team, and Nico Rosberg helped ensure that they would finish in style. Rosberg overcame some pretty dangerous situations on the track to take the win at the 2013 British Grand Prix. This is the second win in three races for the German driver.
Meanwhile, teammate Lewis Hamilton could not hang on to his pole position after a rear tire explosion. Despite the problems, Hamilton managed to recover enough to finish in P4, salvaging some valuable championship points despite not being able to finish on the podium even when he thought the team was certainly on track and in great position to.
Joining Rosberg on the podium were Red Bull's Mark Webber at P2 and Ferrari's Fernando Alonso at P3. Webber had just announced that he would be retiring from F1 after the 2013 season and is slated to join Porsche in the long-term for the FIA World Endurance Championship.
Interestingly, Webber's teammate and championship race leader Sebastian Vettel had a rare race retirement due to mechanical failure, making things a bit closer as far as the race for the number one spot goes.
In addition, three other drivers encountered the same left rear tire explosion. Within the next several laps, Felipe Massa and Jean-Eric Vergne suffered the same fate. Sergio Perez also had a similar incident later in the race. Pirelli will certainly have some explaining to do on this front.
Rounding out the top 10 are Kimi Raikkonen P5, Felipe Massa P6, Adrian Sutil P7, Daniel Ricciardo P8, Paul di Resta P9, and Nico Hulkenberg P10. Mercedes leapfrogs Ferrari for second on the constuctors' title race.
The next race is at the Nurburgring for the German GP on July 7, so stay with us and we'll bring you all the latest Mercedes F1 updates.