Ryan Joseph Ramos
June 9, 2013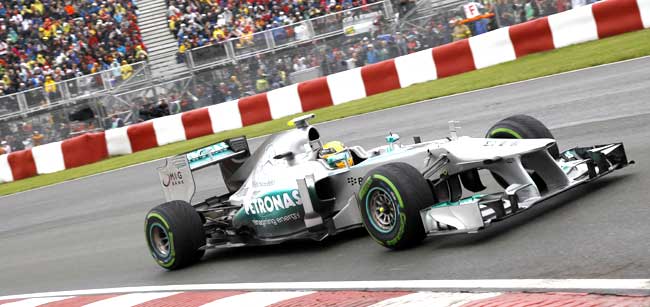 During rain-soaked qualifying, Lewis Hamilton had a chance to take pole position for Mercedes AMG Petronas, but had to settle for P2 alongside Red Bull's Sebastian Vettel. It's the first time in four races that the Brit managed to out-qualify teammate Nico Rosberg, who settled for P4 behind the surprising P3 of Valtteri Bottas of Williams F1.
With conditions deteriorating in Q2 so much that there was a red-flag incident involving Felipe Massa, Hamilton was able to pace the pack with 1:27.649. Hamilton clocked at 1:25.512, with a critical miss in the turn-in right into the last corner that cost him pole position.
Hamilton liked the front row start, but knows things could have been better. "I was seven-tenths (of a second) up going into the last corner and unfortunately I went straight on."
Incidentally, this is the first time Rosberg had been out-qualified by a teammate right here at the Circuit Gilles Villeneuve.
Even though he was not able to take pole, Hamilton has a good chance of securing some good points in this race thanks to the positioning. He said the car "felt great" during qualifying and in the practice runs. It all boils down to tire management, and whether or not the weather cooperates once the race is on.