Ryan Joseph Ramos
June 19, 2013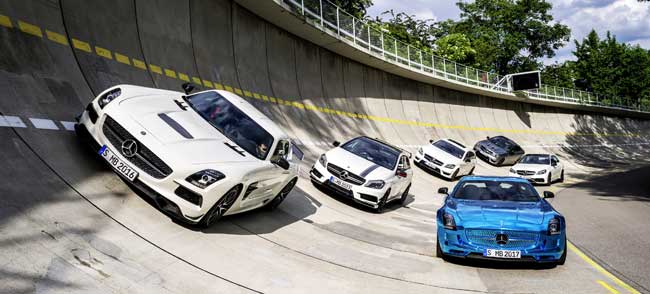 June is heating up with 18 new Mercedes-Benz AMG models making their market launches, as the high-performance vehicles make their way to dealerships. This is part of the 'AMG Performance 50' strategy being rolled out now leading up to Mercedes-AMG's 50th anniversary in 2017.
It's all about top-caliber performance for Mercedes-AMG, and this is reflected in the power range of the new models: they go from 360 hp (265 kW) all the way to 751 hp (552 kW). However, there is also a focus on making the vehicles as efficient as possible.
You've got the A 45 AMG, which is seen as a catalyst for growth in new markets. There's also the Edition 507 model of the C 63 AMG that's available in different variants to ensure that V8 fans get what they want. Of course, if prospective buyers are looking for the pinnacle of the product offering, they need not look farther than the 631hp SLS AMG Coupe Black Series as well as the 751hp SLS AMG Coupe Electric Drive.
Prices for these new models start out at €49,682.50 for the A 45 AMG, and tops out at €416,500 for the Electric Drive variant of the SLS AMG Coupe.
AMG also has something special in store for buyers. They can opt to claim their new rides at the AMG Customer Centre in Affalterbach to enjoy a special delivery experience. They'll be able to spend time in the private lounge, take a guided tour of the facility, and gain access to the AMG Performance Studio right before they get handed the keys to their brand-new AMG vehicle.