Ryan Joseph Ramos
May 16, 2013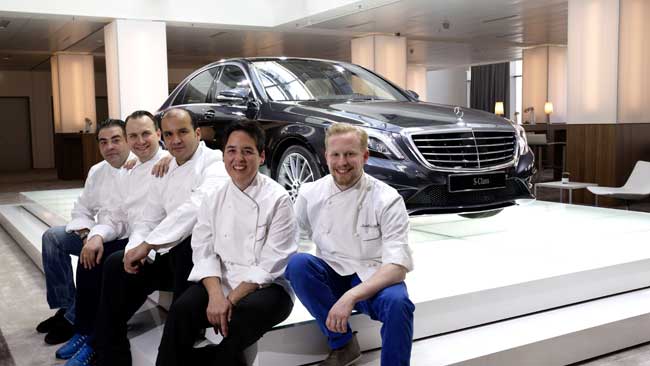 We've already provided you with an overview of the top-flight, high-profile world premiere of the new Mercedes-Benz S-Class in this post, where we mentioned top chefs featured in a 'Ten Star Restaurant' that was a one-night-only thing for the launch. Here are more details about the star chefs as well as the incredible dishes they brought to the Airbus A380 delivery center.
Up first is 44-year-old Juan Amador, who is known for his dishes' contrasting flavors and 'avant-garde compositions' and operates a restaurant in Mannheim, came out with veal cheeks in curry sauce, coconut jelly, and mango mayonnaise.
Douce Steiner, a 42-year-old chef who is the first German female chef that got two Michelin stars, offered up diced turbot in lemon sauce, with green asparagus tips and sorrel. She was also hailed as the 2011 Rising Chef of the Year by the Gault&Millau gourmet guide.
The wasabi langoustine on the menu was delivered by Tim Raue, a two-star chef from Berlin who is known for his Asian cuisine. He has 19 points in the Gault&Millau gourmet guide.
Frozen cress with sorb puree and mustard caramel was the dish served by Frankfurt's Matthias Schmidt, a 31-year-old two-star chef with 17 points in the G&M guide.
Casablanca-born Wahabi Nouri served up Frisian shoulder of ox braised in ras el hanout with celeriac polenta and pickled mirabelle plums. If you think the name sounds very imaginative and fantastic, it is. That's exactly the kind of cuisine the 43-year-old chef is known for, which helped him earn the 2010 Chef of the Year citation by the G&M gourmet guide.
That's the 'taste of luxury' for you. It's just too bad only the 750 guests at the world premiere were able to sample this once-in-a-lifetime 'flying menu'.