Ryan Joseph Ramos
May 14, 2013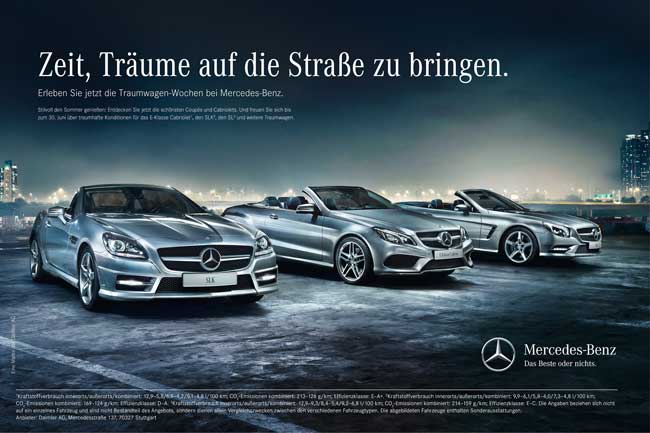 Mercedes-Benz has just launched a sales and marketing campaign that focuses on the automaker's coupe, cabriolet, and roadster lines. The campaign, dubbed 'Mercedes-Benz dream cars', is underway in core markets and is intended to increase the sales of the featured models throughout the year.
The line of "dream cars" include the following: The CL, CLS, CLS Shooting Brake, E-Class coupe and cabrio variants, SLK, SL, and even classics like the SL Pagoda.
"We have always made automotive dreams come true," said Dr. Joachim Schmidt, Mercedes-Benz Cars Sales and Marketing executive vice president. "'Mercedes-Benz dream cars' is intended to underline this as a new umbrella term."
The designated core markets will be able to access something called a 'dream car toolbox' with the corresponding materials, including print and moving images, communication modules, and even some event guidelines should the dealerships want to stage their own point-of-sale events. The toolbox will allow dealerships to cater to their target markets' specific needs.
Mercedes-Benz sees a 'rising demand' for these dream cars. With some 133,000 units in global sales last year, there's definitely plenty of opportunity in this segment.