Giancarlo Perlas
May 31, 2013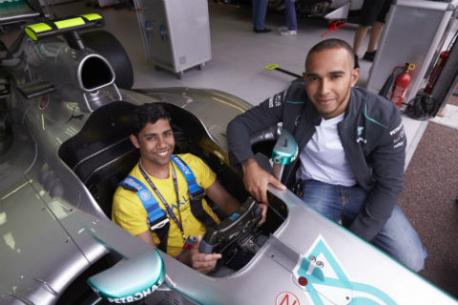 One teen was definitely elated when he met his longtime sporting hero, Lewis Hamilton at the Monaco Grand Prix, which was the race that the team won last Sunday.
Zaim Beekawa, a nineteen year-old boy diagnosed with Hodgkin's Lymphoma (a form of cancer), was nominated by a social worker at the University College Hospital in London to realize his lifetime wish of meeting his idol, Hamilton.
In Beekawa's statement during his interview with "This Is Local London" website, he said that when he was asked to choose between a holiday or a gift, he decided that he would like to watch the F1 race instead. It turned out that he made a wise decision because he did not only get to meet Hamilton, but he also got to experience sitting on the race car of his F1 icon.
In addition, he got to meet other racing personalities like Nico Rosberg, Jenson Button, Paul di Resta, Max Chilton, Sebastian Vettal and Mark Webber.
He said that it was a special experience that anyone could ask for.