Peter Parcon
May 14, 2013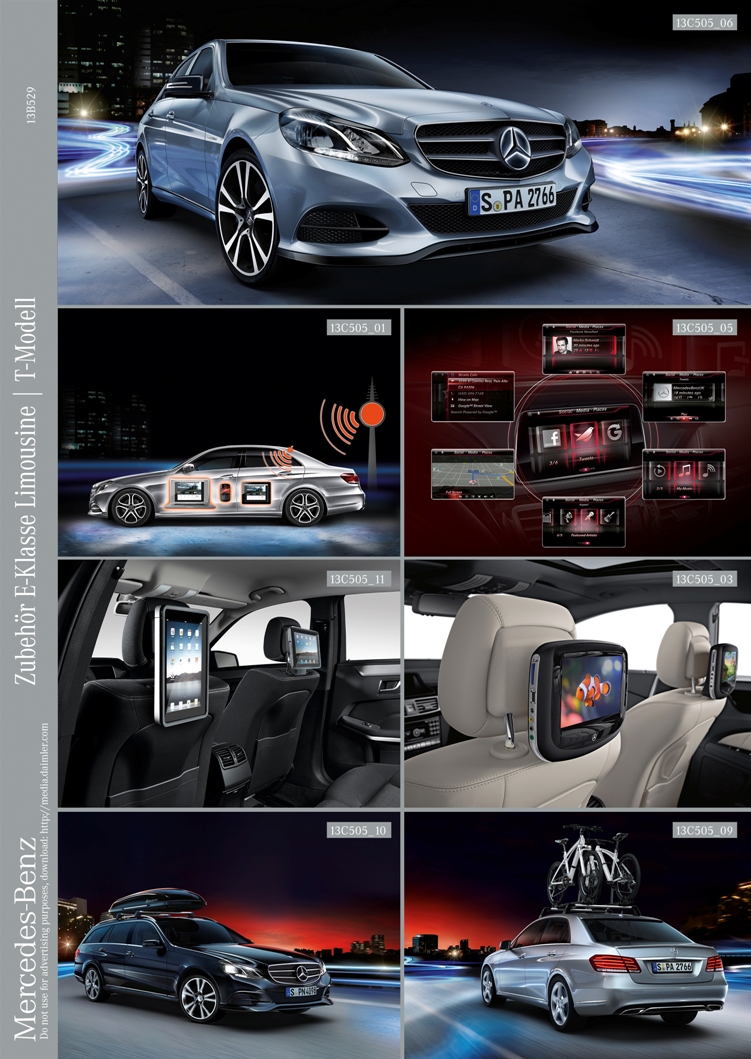 The Genuine Accessories for the latest Mercedes-Benz E-Class Saloon and Estate are already available through authorized dealers of the luxury car manufacturer. More than 140 premium products are included in the Genuine Accessories range that focus on providing sophisticated multimedia systems as well as stylish Mercedes-Benz Sports Equipment products.
The products provide customers with the opportunity to connect to the worldwide web while moving from one place to another.
The InCar Hotspot for the Mercedes-Benz E-Class provides drivers with internet connectivity through a wireless router that features a roof aerial and SIM card. It gives drivers internet connectivity even while cruising around on the E-Class.
The iPhone 4 and iPhone 4S can be integrated into the Mercedes-Benz E-Class through the Drive Kit Plus for the Apple iPhone and the Digital DriveStyle application. The iPad can also be integrated into the vehicle through a docking station that is both safe and ergonomic.
The telephone module with Bluetooth feature also allows the integration of a number of multimedia functions. It has a built-in UMTS module that is linked to the aerial of the vehicle and gives a secure and stable internet connection to the COMAND Online feature.
The Mercedes-Benz Sports Equipment gives owners of the Mercedes-Benz E-Class the opportunity to customize their vehicles by added a number of individualization products. These include a front-apron lip, five twin-spoke wheels, and an illuminated Mercedes star.
The spacious storage capacity of the Mercedes-Benz E-Class can be expanded using a rear-mounted collapsible cycle rack and genuine roof boxes.
The Mercedes-Benz Accessories for the E-Class follow the same strict quality and safety standards that the company uses for its vehicles. Due to this, buyers can be assured of the high-quality of the products offered for their luxury vehicles.