Ryan Joseph Ramos
May 26, 2013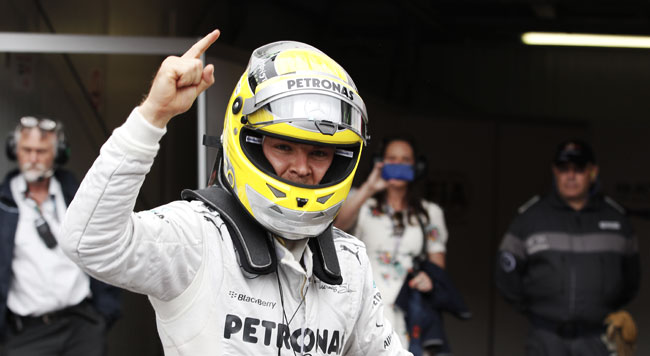 Finally, the Mercedes F1 team was able to win a race in the 2013 Formula One season. Nico Rosberg claimed the win at the Monaco Grand Prix from pole position, giving Mercedes AMG Petronas its first win of the season. Incidentally, it's been 30 years since his father was also able to win in Monte Carlo.
Rosberg crossed the chequered flag 3.8 seconds ahead of Sebastian Vettel. Rosberg dominated the free practices, took pole position in convincing fashion, and went all the way to win the race proper.
Keke Rosberg, Nico's father, won the 1983 Monaco GP.
Teammate Lewis Hamilton, who started from P2, managed to finish in fourth place. He lost P2 after heading into the pits in lap 32, just ahead of the safety car. However, he came out in P4 behind the Red Bulls as Rosberg managed to retain his lead.
A red flag on lap 46 after Pastor Maldonado's big crash caused a restart, neutralizing the race and Rosberg's over-a-second lead on the Red Bulls. Hamilton kept pushing to try and take the last podium spot the rest of the way, but it was for naught.
Hamilton even got engaged in a bit of a verbal tussle with the team, which advised him to take it a bit easy on his tires, but Hamilton snapped back that he was still trying to pass Mark Webber.
With the win, Rosberg moves up to sixth place in the drivers' standings. Hamilton stays idle at fourth place, but cuts into the lead of third-placer Fernando Alonso, who finished in P7. That's certainly a monkey off Mercedes' back, as the team has continued to struggle with their setups, particularly with the tires. It's a welcome win, especially after getting mixed up in a tire-testing controversy.
Joining Rosberg on the podium were the Red Bulls of championship front-runner Vettel and Webber. Rounding out the top ten are the following: (5) Adrian Sutil, Force India-Mercedes, (6) Jenson Button, McLaren-Mercedes, (8) Jean-Eric Vergne, Toro Rosso, (9) Paul di Resta, Force India-Mercedes, and (10) Kimi Raikkonen, Lotus.