Ryan Joseph Ramos
May 25, 2013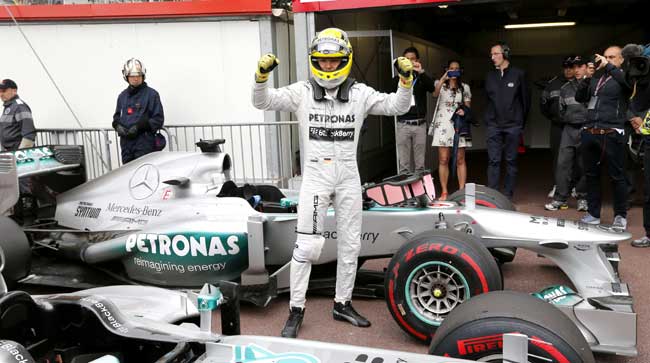 With the way he dominated the three free practice sessions at the 2013 Monaco Grand Prix, Nico Rosberg was the easy favorite to claim pole position once qualifying came around. Well, that's just what he did. Rosberg took his third straight pole by beating teammate Lewis Hamilton, who will start at P2 on the grid to make it a Mercedes AMG Petronas front row.
Rosberg clocked an impressive 1:13.876 in Q3, with Hamilton not far behind at 1:13.967. Hamilton actually set his time first again, before Rosberg came to claim pole position. The same thing happened at the last race in Barcelona.
"It was changing so much," said Rosberg, referring to the track conditions during qualifying. "You have to be on the right tyres at the right time. Everything went to plan and the last lap went okay."
The Mercedes team has once again demonstrated its good lap pace, but it will definitely be a challenge once again to convert qualifying performance into a race win. Rosberg finished only ninth at Bahrain despite starting from pole, while he finished only sixth in the previous race. Hamilton, who is currently fourth in the drivers' standings trailing Fernando Alonso by 22 points, has not finished better than P3 and was only fifth and twelfth in the last two races.
Incidentally, it is also the fourth straight pole position for the Mercedes F1 team, as Hamilton took pole position at the Chinese Grand Prix before Rosberg's hat trick. In addition, this makes it back-to-back front row starts for Rosberg and Hamilton.
The Mercedes drivers will start ahead of the Red Bull drivers, who occupy the second row. Behind the Red Bulls are Kimi Raikkonen and Alonso.