Ryan Joseph Ramos
May 14, 2013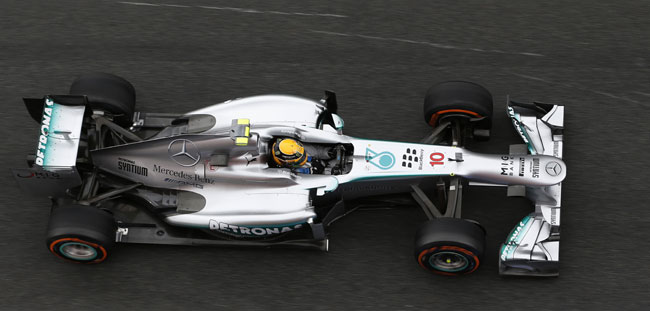 If the 2013 Spanish Grand Prix was anything to go by, it would seem that the Mercedes AMG Petronas team still lacks something significant in order to turn solid practices and great qualifying performance into actual race wins and a good amount of championship points.
Nico Rosberg noted the 'growing gap' between the Silver Arrows and the top three teams [Red Bull, Ferrari, Lotus]. True enough, despite a sixth-place finish for Rosberg in the last round, Mercedes trails Lotus by 39 points.
Rosberg added that the team simply "didn't have the pace" as the top cars in the Spanish GP. "We have a very quick car but we have to make it work for us in the race."
Lewis Hamilton felt that the team actually went backwards instead of putting its pace issues to rest after the layoff. Hamilton's car also suffered from grip and balance issues throughout the race, which saw him start from P2 and finish just outside the points at P12 after being forced to go with a four-stop strategy.
"I know that everyone at the team is working so hard and we need to keep positive. I'm sure we will figure the problem out and we've got to keep pushing together to close the gap."
Both team principal Ross Brawn and Mercedes motorsport chief Toto Wolff were disappointed at the result. Wolff said it coincided with the pattern of having a quick car that ravages tires too much and too quickly. That's why the drivers are often forced to come into the pits to get fresh rubber.
Well, it's clear the team still has some issues to work out. Mercedes needs to figure out the right setup with the F1 W04 if it wants to creep closer to the top three teams in the constructors' standings while avoiding more disappointments. Of course, we know that the team's technical staff is already stretched, what with development for next year's engines and car already being focused on.