Ryan Joseph Ramos
May 26, 2013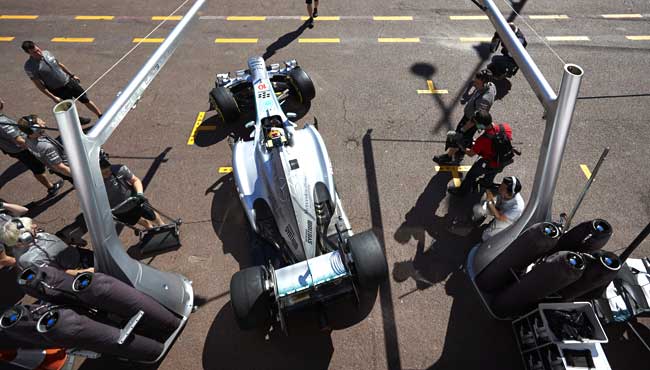 The Mercedes AMG Petronas F1 team is in trouble, as it faces potential protests over a series of tests using Pirelli tires in development for next season and also another design that is salted to be introduced at the upcoming Canadian Grand Prix.
Ninety percent of the testing was for next season's tires, according to Pirelli's motorsport director, Paul Hembery. The tests were done with the F1 W04, and with regular drivers Lewis Hamilton and Nico Rosberg. They were also done over three days, between the Spanish GP and this weekend's Monaco GP (for which the Mercedes team took a front-row lock-out to start the race).
Teams are not allowed to conduct in-season testing, although the FIA is aware of the tests and contracts outside of the rules make them legit.
Rivals Red Bull and Ferrari are said to be considering whether or not to lodge a protest. Other teams say that these tests could provide Mercedes with unfair advantage.
The people involved in F1's technical aspects are well aware of the troubles surrounding Pirelli tires, and they say it is very much understandable that Pirelli will conduct tests on future tires. The problem here, they say, is the lack of transparency.
According to Hembery, the tests are well within the tire supplier's mandate. "We are allowed to do 1,000 km of tyre testing with any team," said Hembery.
"The fundamental aspect is the year of the car," said a Ferrari spokesperson, saying that using a current car constitutes a breach of the regulations and added that the team would be interested in having the same tests done if it were found to not be a breach.