Emmanuel P
April 23, 2013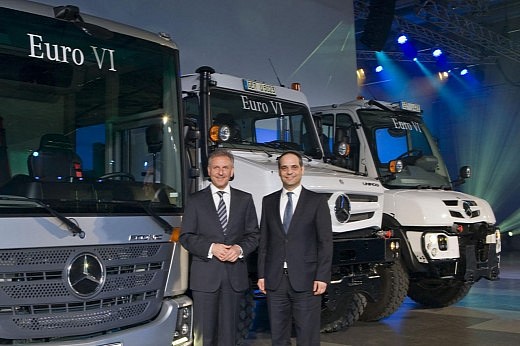 The latest iteration of the iconic Unimog truck will soon be available for sale, as it has been announced that production will begin in September. Together with the release  of the venerable Unimog is the Econic, another workhorse truck.
Mercedes has announced that these trucks will be equipped with Euro VI compliant diesels. In the case of the Unimog, four and six cylinder engines will be offered, ranging from 155 to 355 horsepower. Other features will include daytime running lights, improved visibility with repositioned windshield wipers and a front camera.  Climate controls have also been given a makeover, so that the cabin occupants can operate as the Unimog does in any climate.
 The larger Econic will be equipped with a 7.7-liter diesel, Euro VI-compliant like the Unimog's, with power options of 300 or 355 horsepower. As with the Unimog, the Econic's ergonomics have also been improved, with better sound insulation and a newly-designed steering wheel. Daytime running lights are also standard as well as having stronger bumpers.
These new trucks will not generate the sales volumes that will make bean counters ecstatic. The reason for this is simple. The Unimog and its ilk last practically forever, so replacement trucks are not ordered as often.