Ryan Joseph Ramos
April 19, 2013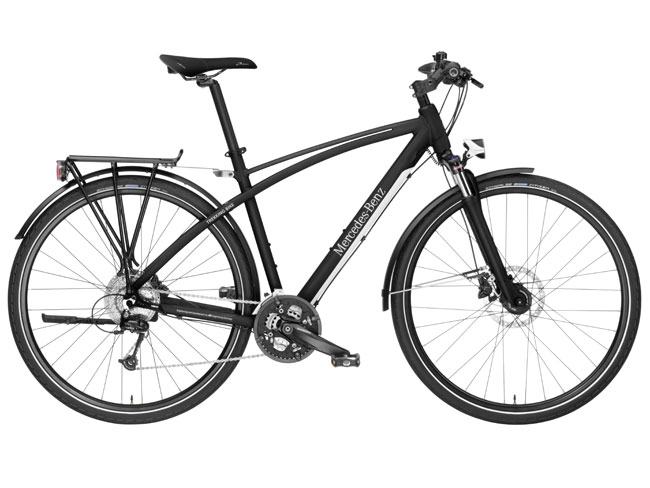 The Trekking Bike 29 is out to bolster the Mercedes-Benz Bikes 2013 line in time for the spring. It adds to the Fitness Bike 29 and Kids Bike already introduced last year, which are part of the 2013 Accessories Collection catalog.
With its eponymous 29-inch Schwalbe Citizen tires, the Trekking Bike 29 is engineered for stability, smooth running, and superb traction. Aside from those, the bike also comes with angle-adjustable stern on the handlebars, which are also equipped with Topeak Ergon GP 1 grips.
The bike, which has an exclusive Mercedes-Benz frame, is also equipped with FUXON LED front and rear lights, complemented by a Shimano hub dynamo and a standlight function. There's also a Phorm saddle that has three 'comfort zones' that help relieve pressure.
The Trekking Bike 29 has the same rear carrier as the Fitness Bike. There's a pannier of black nylon and coated with DuPont Teflon, and the pannier can simply be pushed and locked in place with a simple and easy click mechanism.
To round out the 2013 collection, there's the Fitness Bike 29, the starter Kids' Bike, and the All Mountain mountain bike that's built for off-road rides.