Ryan Joseph Ramos
April 29, 2013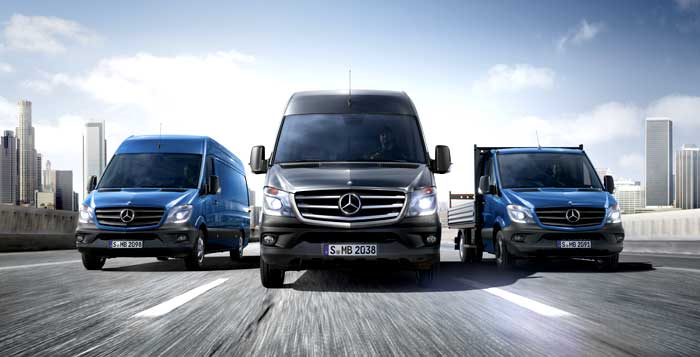 The new model of the highly successful Mercedes-Benz Sprinter van is out, and it comes with a number of improvements—not the least of which is compliance with upcoming Euro VI emissions standard, superb efficiency to the tune of 6.3 liters per 100 kilometers, and a whole new suite of safety systems.
Crosswind Assist comes standard across the model range, and this new safety system debuts along with COLLISION PREVENTION ASSIST (optional), Blind Spot Assist (optional), Highbeam Assist, and Lane Keeping Assist. Mercedes-Benz is keen on keeping accident figures in the van segment down, and these new safety systems should help in that aspect.
In addition to the new safety systems, the new Sprinter also holds the distinction of being the world's first Euro VI-compliant van, and it does so across all engine variants thanks to BlueTEC engine technology and SCR technology. NOx emissions, total hydrocarbons, and particulate mass are all reduced and the van is well within the stricter limits imposed by Euro VI.
Diesel engine output ranges from 95 horsepower to 190 horsepower, while the supercharged four-cylinder direct-injected gasoline engine (with an equally powered natural gas variant) gets 156 hp.
The new Sprinter also achieves the best fuel efficiency in its history, with a minimum of 6.3 liters per 100 km. This is achieved through the efficient diesel engines, an optimized powertrain, ancillary components, longer ale ratio, and BlueEFFICIENCY PLUS.
Of course, a new model wouldn't be complete without tweaks to the interior furnishings and exterior appearance. A fresh wedge-shaped grille, new angular headlights, and a new hood are among the more prominent exterior changes. The interior features new seat covers and upholstery, chrome-finished air nozzles, and a redesigned gearshift lever knob, among others.