Ryan Joseph Ramos
April 19, 2013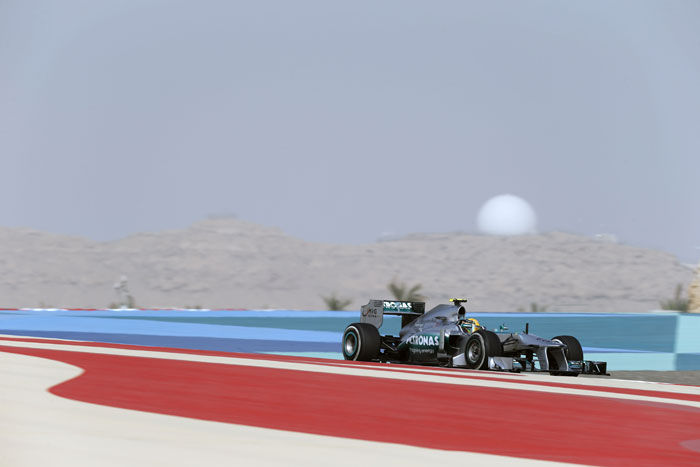 The Bahrain Grand Prix might be too hot for the Mercedes AMG Petronas F1 team, as the team struggled with their tires and setups at the scorching Sakhir circuit.
Nico Roberg had the third-fastest lap time in the first free practice, with his 1:34.621 close to the leading Ferraris of Fernando Alonso and Felipe Massa. Lewis Hamilton was a distant 13th, with 1:35.611. Track temperatures in FP1 went as high as 45 degrees Celsius, while ambient temperatures peaked at 34 degrees.
Rosberg's 1:34.666 was good for eighth in the second practice, which featured track temperatures between 39-41 degrees Celsius, while Hamilton took tenth with 1:34.976.
Hamilton said the team just couldn't get the right level of balance for the car. "We need to identify where we are losing time and find more performance," said the Brit, who is currently fourth in the drivers' standings.
"We're not as far off as we might look today but there is a lot of hard work ahead and it will be a tough battle for us this weekend."
"The car had a lot of understeer and the race will be very tough on the rear tires," added Rosberg, who is trying to shake off having two retirements in the first three races. He said the key was getting the "right compromise" between setting up the car and trying to save the rear tires.
There's still the Saturday practice due in a few hours, so we'll see how Mercedes has adjusted after analyzing lots of data off their long practice runs on Friday.