Muamer Hodzic
March 27, 2013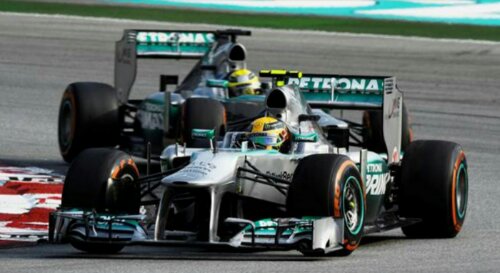 The Mercedes AMG Petronas team is heating up and starting to show its true potential. Lewis Hamilton claimed his first podium finish with the Silver Arrows team at the Malaysian Grand Prix, and teammate Nico Rosberg was right behind him.
This is also a great time for anyone intrested in betting on the Mercedes team. Motor racing is becoming very popular betting sport throughout the UK and much of Europe. This means that betting on various aspects of the Formula 1 season, including which teams and drivers will win individual races and who will be the new world champion, are enthusiastically embraced by gambling fans. This interest in Formula 1 betting has even been noted by the online casino companies such as iPadcasino.com.au – leading to the development of new video slots games based around it, which will probably widen the appeal even further.
As with other types of sports betting, it is highly advisable for anyone interested in exploring Formula 1 betting to start doing some research into the sport before placing a bet. To be fair, although this advice is usually given in relation to betting on sports, it applies to most other types of gambling as well, as no one with any sense would start playing poker or blackjack at an online casino without learning a bit about those games first. With Formula 1 betting you should be looking to find out about issues such as which makes of cars are better suited to the different race tracks and the prior success rate of the different drivers in various weather conditions – as these are the kinds of factors which can heavily influence the results of Formula 1 races.
Of course, while you can choose to bet simply on individual race results, it is also possible to place a more long-term bet on which driver will be win the overall Formula 1 title, whether it is a previous winner – such as Lewis Hamilton – or a new world champion. However this will still require you to research the sport, if you do not already have a real interest in motor racing, but the majority of serious gamblers will be happy to do this.