Giancarlo Perlas
March 4, 2013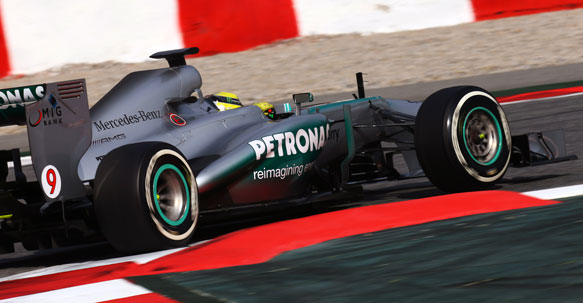 After humbly admitting that Mercedes-Benz Team does not have what it takes yet to get on top of the rankings, the results of the Barcelona F1 test proved otherwise. Nico Rosberg and Lewis Hamilton both proved to be formidable opponents for other teams as they raked enough points to propel them on top of the test track's rankings.
In terms of combined times, Rosberg holds the top position with a time of 00:01:20.130. Fernando Alonso of Ferrari followed the young Mercedes driver with a clock record of 00:01:20.494 which is only 0.362 seconds away. Third is Hamilton with 00:01:20.558 which is only 0.428 seconds away from Rosberg.
Then, despite of the problems that the Mercedes car experienced during the start of the test, Rosberg was able to run up to 251 laps with a total distance of 1,168 km. He is followed by Hamilton with 230 laps and 1,070 km in terms of overall distance covered. As a team, Mercedes was able to go 481 laps with a total of 2,239 km. In both categories, Ferrari only emerged second.
Is this a sign of things to come? Well, this is only the testing season. Kimi Raikkonen, Sebastian Vettel and other drivers said that the displayed performance of Mercedes during the test is not a decisive factor in the races because there are still uncertainties over the fuel load that the F1 WO4 will be running.