Ryan Joseph Ramos
March 23, 2013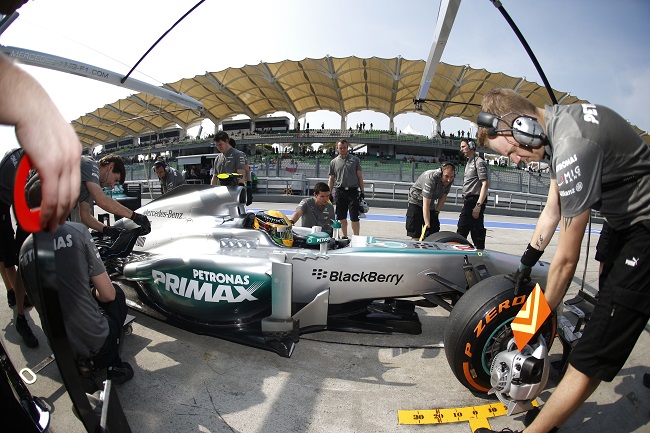 Mercedes AMG Petronas continued to roll at the start of the 2013 Formula One season, getting a solid performance in qualifying at the Malaysian Grand Prix. Lewis Hamilton managed to snag P4, while Nico Rosberg will start at P6 on the grid tomorrow.
Rosberg actually paced Q2 with his 1:36.190, but couldn't really sustain that pace in the third and final round. Rain started to pour down in Q2 and the team shifted into the intermediates for the last phase of qualifying.
"In the dry conditions I had a great balance today and everything went perfectly which was nice to see," said Rosberg. "Once it began to rain, unfortunately we weren't able to get the most out of the car and at the end of Q3, my tyres were worn as some parts of the track were drying and I wasn't able to improve my lap time."
Hamilton was happy with his P4 finish, but also lamented the fact that the team couldn't push their advantage once the conditions went from dry to wet.
"It's the second race on the second row for me and there are lots of positives to take out of the weekend so far," said Hamilton, who finished fifth in the opening race at the Australian Grand Prix. "Our long run pace looked pretty good compared to the other teams so I'm hoping for dry conditions tomorrow."
It looks like the race will again hinge largely on the dryness of the track come race time. Still, we expect Mercedes to push hard for some decent points, especially given the good starting spots the drivers managed to secure.