Peter Parcon
March 28, 2013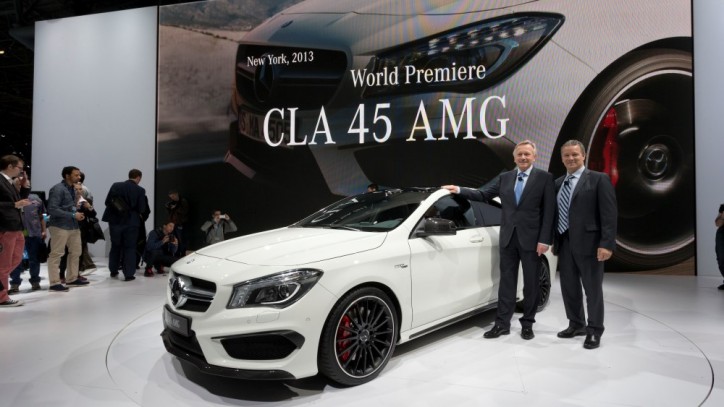 Mercedes-Benz is set to introduce five new car models at the upcoming New York International Auto Show.
The upcoming launch of the new vehicles will include the world premiere of the high-performance Mercedes-Benz CLA 45 AMG Coupe and the battery-powered Mercedes-Benz B-Class Electric Drive. In addition to these two new models, the show will also see the US debut of the Mercedes-Benz C63 AMG "Edition 507", the all-wheel drive Mercedes-Benz E63 AMG S-Model wagon, and the latest series-production model of the Mercedes-Benz CLA-Class.
According to Mercedes-Benz Cars Sales and Marketing Executive Vice President Dr. Joachim Schmidt, following the record sales in 2012, the company is ready to set a new record in sales for 2013 with its continuing product offerings. This will add to the momentum of the global success of the company.
Mercedes-Benz USA President and CEO Stephen Cannon revealed that the company started strong in 2013 and they expect US sales in the first quarter to set a new record.
The Mercedes-Benz CLA 45 AMG will be unveiled for the first time at the NYIAS and it is expected to appeal to new markets. It features the AMG brand identity and a next-generation Driving Performance to potential buyers. Its turbo-charged two-liter engine features an output reaching 133kW (181hp) for every liter displacement, which surpasses a good number of sports cars in the market. Its handling will be first-class due to the AMG 4MATIC all-wheel drive system, and offers a 0-100km/h sprint of 4.6 seconds.
The series-production model of the latest Mercedes-Benz CLA will also mark its US debut. It will feature turbo-charged engines that generate an output of 155kW (211hp) and the 4MATIC all-wheel drive system.
The Mercedes-Benz B-Class Electric Drive will also have its world premiere in New York. Although it offers zero local emission, its 130kW (177hp) electric motor provides a dynamic driving experience. Its high-performance lithium-ion battery provides the energy for the vehicle, which has a range of up to 200 kilometers. It has a low center of gravity that enhances handling and it also features its own digital network that will allow it to connect to the internet.
Another Mercedes-Benz model that will make its North American debut is the Smart ForTwo Electric Drive, which brings local zero-emission mobility into the US market. It is a cost-effective urban two-seater that has a range reaching 145 kilometers. It can be fully charged within six hours and offers a 0-60 km/h acceleration of 4.8 seconds.
The latest Mercedes-Benz E63 AMG S 4MATIC Wagon will also debut in the US market. It offers dynamic driving for the entire family. The 5.5-liter bi-turbo-charged V8 engine offers ultimate efficiency as it combines high performance with low fuel consumption. The multi-plate clutch also offers optimum traction, which adds to its safety when used under wet and icy conditions.
The Mercedes-Benz C63 AMG "Edition 507" will also enter the US market for the first time bringing with it an AMG V8 engine. This particular model will be offered in three versions, a coupe, a wagon and a sedan. The Mercedes-Benz C63 AMG "Edition 507" is set to be offered to sporting drivers who look forward to the most modern technology coupled with an impressive collection of exclusive equipment and design details.