Ryan Joseph Ramos
March 24, 2013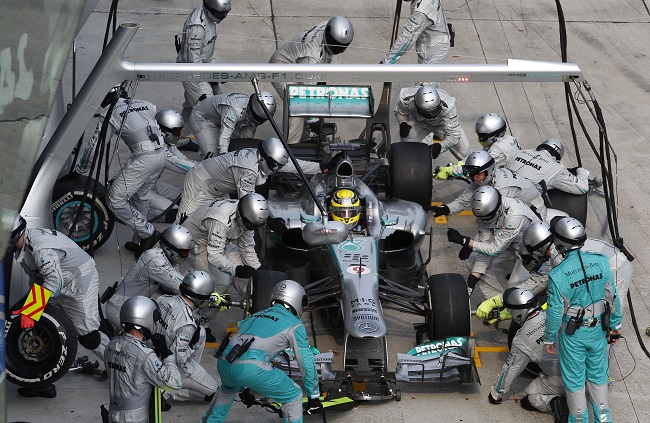 Lewis Hamilton scored his first podium finish for the Mercedes AMG Petronas team on Sunday at the 2013 Malaysian Grand Prix, incidentally the team's home race. While the newcomer had a great race overall, he did have one funny moment on the circuit. On his first pit stop, a tire change in Lap 8, the former McLaren driver actually went into the McLaren pit stop box, which many of course found amusing.
The gaffe prompted these tweets from McLaren's official Twitter account:
Smiles in the garage after a well-worked double pitstop with an unexpected twist. #F1

— McLaren (@TheFifthDriver) March 24, 2013
Feel free to pop in and say "hi" any time, @lewishamilton!

— McLaren (@TheFifthDriver) March 24, 2013
Well, it really isn't hard to see why Hamilton would make such a mistake; after all, he had been racing for McLaren colors since he was a wee lad 13 years of age. He also won the 2008 F1 drivers' championship with the McLaren team.
"I don't know how that happened," said Hamilton, who is currently at fourth in the drivers' standings. "The teams look so similar. I have been stopping in that pit box for years." He added that it was an easy mistake to commit given the circumstances, but that hopefully it was a gaffe that wouldn't happen again in future races.
By the way, here's a short clip of the pit stop error:
Good thing all the McLaren crew had to do was let him pass through and on to the Mercedes pit; what would have happened if Mercedes' slot was ahead of McLarens?