Carlo Adrian Canon
March 4, 2013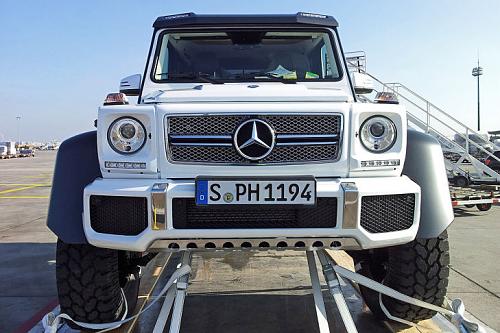 Among the Mercedes-Benz line up, the G-Class is known as the monster because of its engine features and impressive physique. The German automaker is coming up not just four wheels G63 AMG variant but also in the form of a six-wheel-drive variant of the AMG G-Class which is the 6×6 Mercedes-Benz G63 AMG V8 Biturbo.
AutoBild has posted photos featuring this 2013 Mercedes Benz G63 AMG 6×6 being delivered. Looking at the photos, you will see the vehicle is not polished off in a typical military gear. As you can see, it appears like more of a civilian version.
The monster truck is powered by a twin turbo V8 5.5-liter engine with 544 horsepower (400 kW) and 560 pound-feet of torque (760 Nm). It is also assumed that the vehicle will feature a 7G Tronic transmission.
The vehicle was spotted on its way to the Middle East wherein this beastly Mercedes-Benz look could be a huge hit.