Giancarlo Perlas
February 11, 2013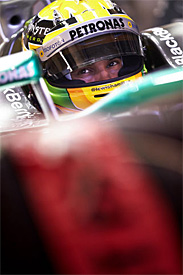 According to Ross Brawn, Lewis Hamilton has really proven that he has the right off-track skills and the mindset to succeed. He added that the young driver really did great during the first week of testing despite the technical problems that car was experiencing.
The team principal also stated that the determination of the 2008 F1 world champion to move Mercedes-Benz team forward was certainly shown in his performance during the past week.
Brawn acknowledged that Hamilton is definitely a skillful driver. However, there are more to just being a driver. The other factors are what most talented drivers lack said the man holding the reigns of the team. Luckily, he commented that Hamilton is blessed with the factors that others do not have.
Brawn further said that Hamilton is very vital to the team because he is simple but straightforward. He has the ability to look into the details and share to everyone what he thinks.