Giancarlo Perlas
January 15, 2013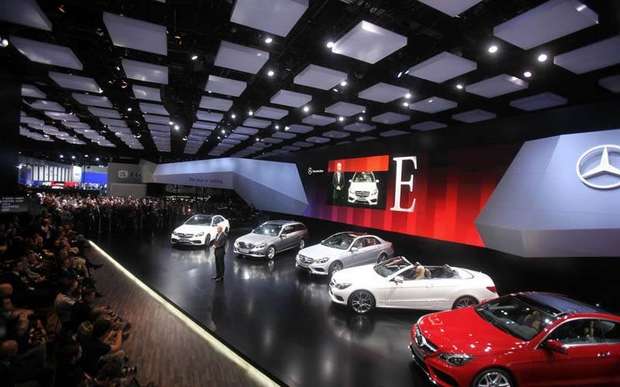 Finally, Mercedes-Benz opens the curtains to one of its newest creations on the first day of the Detroit Autoshow. Among them were the new E63 AMG sedan and wagon that boast all-wheel drive features, powerful engines and amazing designs.
The Chair, Dieter Zetsche, stood there like a proud father that he is next to the new family of cars. He said that the E in the E-Class means efficiency, emotion and extra intelligence. I must say, he should add excellence into that because the audiences were definitely awestruck by the flair that the new models gave off at the event.
He hyped the crowd with the attractive looks and the digital features of the latest additions to the Mercedes-Benz brand. The concept of the much awaited CLA-Class was also revealed to the delight of the anticipating people who were in attendance.
According to the accounts of the Detroit Free Press who covered the event, the crucial enhancements in the production line of Mercedes-Benz aim to strengthen their position in the market against their rivals BMW 5-Series, Lexus GS and Audi A6.
Among the other notable traits of the E-Class are:
2.5-litre 4-cylinder diesel engine for fuel conservation.
A power of 190HP and 369 lb-ft of torque.
V6 hybrids and V8 models are offered to customers.
Optional LED lights for the headlights and taillights.
Distinctive outlines to slightly imitate the contours of the SLS and SL Roadster.
Improved visuals for the driver in the form of a binocular camera attached at the rear of the rearview mirror to allow a 3D rendition of obstacles to boost its safety systems.
A stop-start system that turns off the engine when the vehicle is in an idle state.
Standard seven-speed AT.
The coupe and convertibles can come with a V6 engine with 302HP or turbocharged twin-V8 engine with 402HP.
E63 sedan and wagon gets an amazing boost equaling 577HP and 590 lb-ft of torque.
Here's an exclusive peek at the event, thanks to Detroit Free Press: