Emmanuel P
January 24, 2013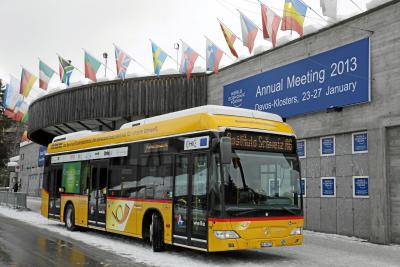 At the World Economic Forum currently being held in its traditional venue in Davos, Switzerland, Mercedes is providing two Citaro buses fueled by fuel-cell technology. As any world citizen knows, unpredictable world events have a way of reaching into the pockets of consumers everywhere, so providing alternative fuel buses to these economic leaders is a nice reminder of the possibilities of alternative technologies.
The fuel-cell buses are not unique for this event, as the provider of the two shuttle buses, PostAuto Schweiz AG, has been running 5 fuel-cell Mercedes Citaros since 2011. These Citaros see in regular use on PostAuto  service routes in and around the Aargau canton of Brugg. This is part of PostAuto's long-term test of fuel cell drive systems in public conveyances. According to Hartmut Schick, Head of Daimler Buses, "I had the opportunity to see operation on the ground. I am very impressed with how PostAuto Schweiz AG has implemented the concept."
The latest Citaro FuelCELL Hybrid boasts fundamental innovations which are significant improvements from the first units of early 2000: hybridisation with energy recovery and storage in lithium-ion batteries, high-performance electric motors with 120 kW continuous power in the wheel hubs, electrified PTO units and further developed fuel cells. These have achieved an increased durability of at least five years or 12,000 operating hours. The fuel cell stacks of the new Citaro FuelCELL Hybrid are identical to those of the Mercedes-Benz B-Class F-CELL, which Mercedes has made available in selected markets.