Ryan Joseph Ramos
January 8, 2013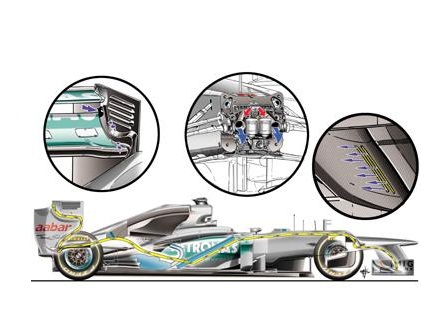 As part of the changes to be set in place for the 2013 Formula One season, active double DRS systems such as the ones developed by the Mercedes AMG Petronas F1 team early in the season would no longer be allowed.
Of course, it's not like the team planned to stick to its pioneering design, even with good results to start the season that culimated in Nico Rosberg's win at the Chinese Grand Prix. Team principal Ross Brawn had already conceded that the Mercedes cars didn't really get that much benefit out of the system. He maintained that it was a "valid concept" but there were sacrifices on other aspects of performance that ultimately hindered the team.
Mercedes also developed a passive double DRS system. This type of system, while having potentially better gains in 2013 because of rules changes, have been very tricky in terms of deployment. In addition, such systems have less of an impact on circuits that sport numerous high-speed corners.
Late in 2012, after confirming that the team will ditch the double DRS that was then anticipated to be banned, Brawn said that the team is looking at different considerations and solutions.
Other changes for the 2013 F1 season include: more restrictions placed on stanard DRS use, an optional vanity plate to cover up the ugly stepped noses in use last season, more strenous safety tests on the cars, and a raised minimum car weight (640 kg to 642 kg) because of the heavier new tires supplied by Pirelli.