Ryan Joseph Ramos
December 12, 2012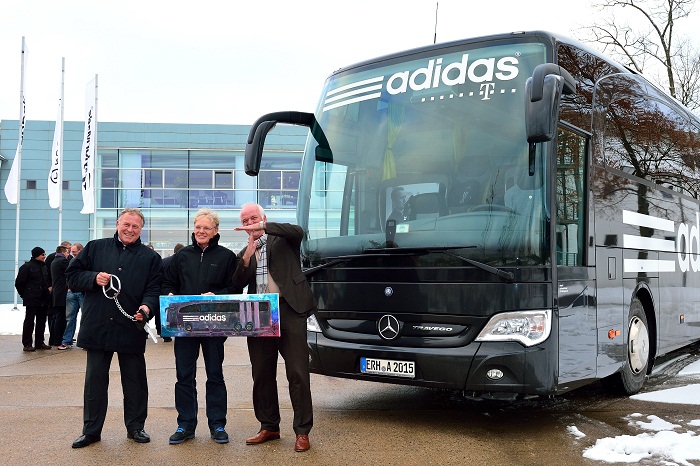 Germany-based multinational sporting equipment company Adidas has chosen the Mercedes-Benz Travego Edition 1 Euro IV flagship coach to be its go-to vehicle for VIP transport, shuttle service, and staff events. Mercedes-Benz Bus and Coach unit head Horst Hartmann personally turned over a unit to Matthias Malessa, Adidas Head of Human Resources, and Hans-Peter Klein-Schell, the VP for Corporate Facilities and Services EMEA & Key Projects.
The Travego Edition 1, which was previously awarded by Germany's Busplaner bus magazine with its Innovation Prize 2012, was chosen for the Euro IV compliant engine, which makes it a very environmentally friendly coach. After all, it's backstopped by BlueEfficiency Power technology. In addition, there's a Mercedes-Benz 8-speed GO PowerShift transmission specially designed for buses for the most delicate of maneuvers. A wear-free and maintenance-free clutch also adds for more versatility.
All those are on top of other amenities , like 48 Luxline-upholstered passenger seats, a pair of club tables at the bus's rear, and a trio of LCD monitors.
The German football team also uses a Travego Edition 1.