Emmanuel P
November 8, 2012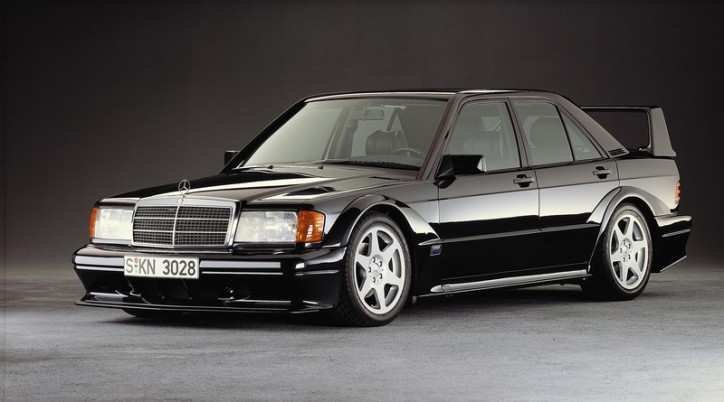 30 years ago, Mercedes-Benz introduced a new class of car that broke the image that the company only made midsize and large luxury cars. Known as the W201, the Baby Benz was the first of the compact cars that are now an important niche for the German automaker.
The 190  Baby Benz model scored well in terms of its high degree of passive safety and modern suspension technology, good aerodynamics and intelligent lightweight design, traits that customers expected from any car that bore the Mercedes brand.. Among other features, Mercedes-Benz specifically developed and patented an independent multilink rear suspension for the 190, in which each rear wheel was supported by five independent links, thus helping to ensure equally high levels of ride comfort and handling precision.
A year later, Mercedes-Benz introduced the limited-edition 190 2.3-16. This Baby Benz was decked out with wheel flares and aggressive air dam and rear wing. Featuring a Cosworth-designed 16-valve head, it produced a then-lofty output of 185 horsepower. It was used in several long-distance records, were it would clock average speeds of 250 km/h. In its time, its great competitor was the newly-introduced M3, and both cars are highly desired collectors items today. There was actually a 190 2.5-16 Evolution version, but this car was rare then, and is even rarer now.
Over its 10-year production period, Mercedes produced more than 1.8 million 190s. In 1993,  Mercedes-Benz presented the W202 C-Class as the successor to the Baby-Benz. It has since then undergone several evolutions, with the ultimate C-Class being the Black Series Coupe.