Muamer Hodzic
November 10, 2012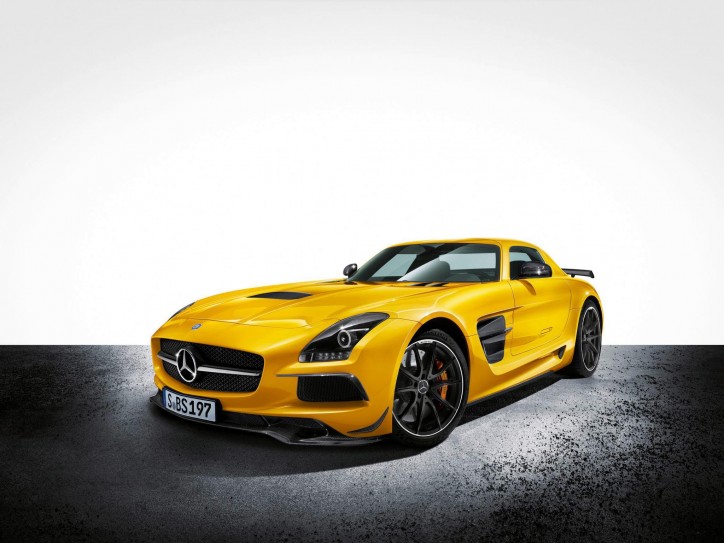 Mercedes-Benz fans are abuzz after the company released photos of the new 2014 MY SLS AMG Black Series on Facebook. In advance of the 2012 LA Auto Show, the company is building excitement around the new model. The new photos reveal a race ready vehicle that will astound audiences across the world. With so many improvements, there is plenty to be excited about.
Starting with the engine, AMG made some changes that yielded 39 more horsepower, giving the 6.2 liter V8 a total of 622 hp. That's a little more power than your average commuter car. Impressive statistics like a top speed of 196 mph and zero to 60 acceleration of 3.5 seconds will have devotees salivating at the chance to get behind the wheel.
The SLS AMG Black Series comes in a little lighter than the SLS AMG GT, weighing 3,417 pounds. The weight was trimmed from some unlikely sources including the lithium-ion battery, commonly seen in hybrids and electric cars. Other components, including the two-piece ceramic brake system, have been redesigned to save pounds as well as finding use for carbon fiber wherever possible. Combining the weight savings and the increases in power makes for a fast ride and the handling has been improved to accommodate. The track has been widened and the suspension redesigned.
The GT3 inspired style of SLS AMG Black Series is undeniable and many elements of the car appear to have come straight from the racetrack. This car looks every bit as fast as it is. The front chin spoiler, the redesigned forged alloy wheels, the vented hood, the front and rear ends all scream speed. The influence transfers to the sleek interior as well. Accents of carbon fiber inside help the driver to remember just what it is they're driving and the red 12 o'clock mark on the steering wheel makes everyone feel like a pro driver.
While the 2014 MY SLS AMG Black Series won't be available on the market for another year, enthusiasts will be excited to see the details and start thinking about getting one of their own. The price tag won't be small but lottery jackpot winners won't be worried about it. Think of the number of Mercedes a person could own after winning the Euromillions lottery, for example. Check out Euromillions.com to find out more.
In the meantime, imagine yourself in the drivers seat of this cutting edge vehicle.