Ryan Joseph Ramos
November 17, 2012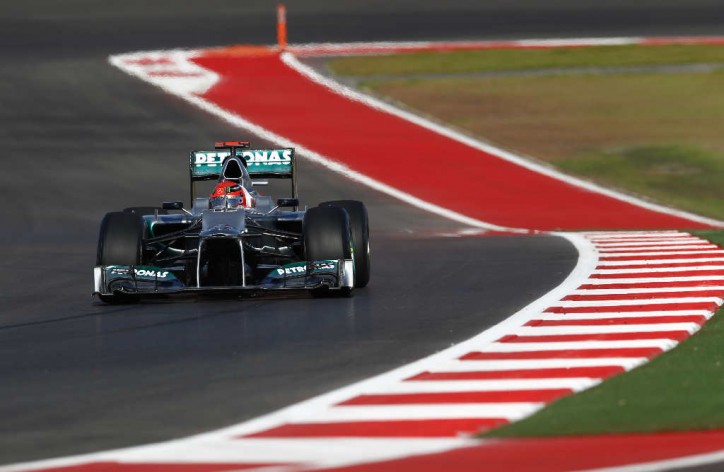 Mercedes AMG Petronas F1 driver Michael Schumacher is set to start fifth on the grid when the 2012 US Grand Prix gets underway, after the German qualified at P6 and got bumped up a spot because of Romain Grosjean's gearbox change that resulted in the standard 5-place penalty.
"I had a good lap in Q3 and everything felt right with the car so we were able to maximise the potential," said Schumacher, who will be leaving the team after this season. He added that starting from the clean side of the grid has some advantages. "The car looks reasonably consistent for the race and I would like to achieve the maximum result possible tomorrow."
Fellow Mercedes driver Nico Rosberg, on the other hand, failed to make much headway despite decent practice runs (as high as P7) as he qualified at P17. He barely got into round 2 of qualifying after struggling to get some grip on his option tires. He also ran the car's old exhaust system partly because of preparations for next season.
"The car felt good this morning in the cool temperatures but the difference to Michael's car surprised me this afternoon," Rosberg said. "So I hope that the race pace is better tomorrow and the switch will be worth it. I will definitely push to score points."
Sebastian Vettel again topped qualifying and took pole position, followed by Schumi's replacement on the team next year, Lewis Hamilton. Vettel's teammate, Mark Webber, is next on the grid, and then Kimi Raikkonen, then Schumacher.