Ryan Joseph Ramos
November 24, 2012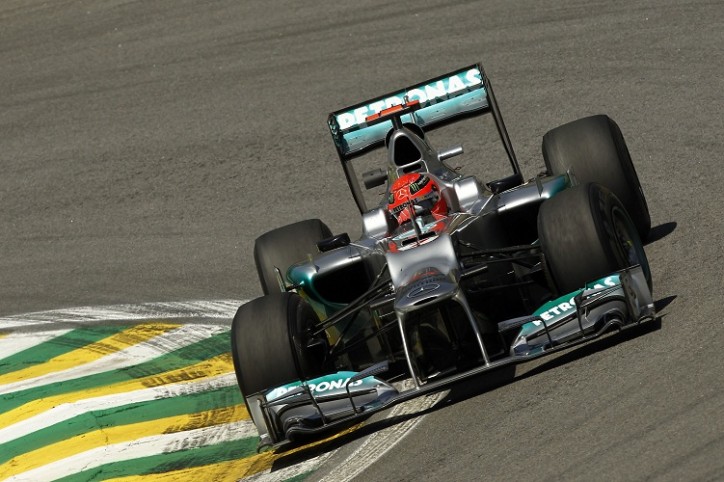 There was tension all around a damp Interlagos for the qualifying session of the 2012 Brazilian Grand Prix, with the battle for the title going down the wire. It was soon-to-be Mercedes AMG Petronas driver Lewis Hamilton who took pole position, while current drivers Nico Rosberg and Michael Schumacher will start at P9 and P13 on the grid, respectively.
Rosberg and Schumacher actually qualified at P10 and P14, but a reprimand for then-P6 Pastor Maldonado—his third of the season, warranting an automatic 10-place grid penalty—bumped the rest of the field from P16 and higher up one spot.
"To progress into Q3 and the top 10 in qualifying today was a reasonable achievement for us," said Rosberg. "Our car set-up was a little compromised due to the race conditions expected tomorrow so we should be in better shape then." He added that he's looking to score some good points especially if conditions work toward their setup's favor.
Schumacher, of course, was less than thrilled—especially since this would be his last Formula One race. "We might have compromised the car too much for the rain which is expected for tomorrow and was also forecast for qualifying… Of course, coming from where I am not does not make it easy, but I will definitely try to fight my way up the field."
The penalty to Maldonado also helped boost Fernando Alonso's already slim chances of wresting the title from Sebastian Vettel. It's really Vettel's title to lose at this point, as Alonso needs to win the race while Vettel finishes fifth or lower in order to leapfrog the youngest double-champion in standings. Alonso, however, said it would be more likely to count on a retirement for his opponent given the forecast of rain and the possibility of "a chaotic race."
It's certainly going to be an enjoyable race at Interlagos. Count on the title contenders to really put the pedal to the metal and fight it out until the last lap, but it sure looks like Vettel is set to be the youngest triple champion in F1 history. Also, don't count Schumacher out just yet—he surely won't give up in his last race and hopefully he can still finish with a few championship points as he bids farewell to F1.