Ryan Joseph Ramos
November 4, 2012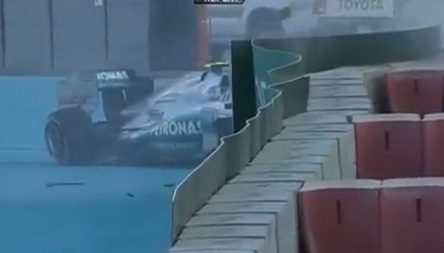 The way things are going for the Mercedes AMG Petronas F1 team, they might as well go back to the drawing board now even with 2 races left in the 2012 season. Michael Schumacher could do no better than 11th place, just one spot out of the championship points, and Nico Rosberg had a big crash in the ninth lap, effectively taking him out of the race.
Erstwhile race leader Lewis Hamilton retiring on lap 20 after his McLaren-Mercedes suddenly lost power. This left the door open for Kimi Raikkonen to take the victory, followed by Fernando Alonso and Sebastian Vettel. Hamilton's McLaren teammate Jenson Button finished in fourth place.
Rosberg smashed into the rear of the HRT of Narain Karthikeyan, sending his car flying and subsequently hitting the barriers. Fortunately, though, the drivers were unhurt despite the apparent severity of the accident. Everyone watching and keeping tabs on Twitter were worried about Rosberg. Thankfully, a later tweet from his PR manager Georg Nolte said that all the medical checks were done and that Rosberg was heading out of the medical center.
You can watch a replay of the crash after the break.
http://youtu.be/MOmXIQY298Q?t=1m30s