Emmanuel P
November 26, 2012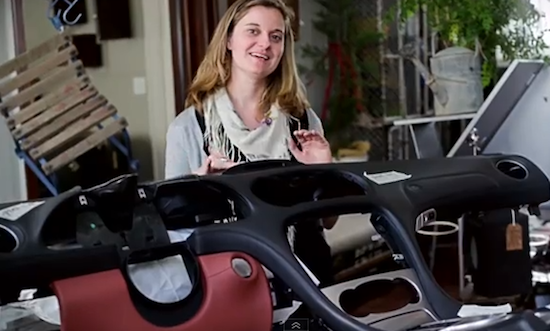 Anybody who owns a Mercedes sedan can relate with the sense of luxury that ensconces you as soon as you settle yourself in the interior. For those who can't get enough of Mercedes design, there is of course the Mercedes and Formitalia partnership which has been offering Mercedes-designed chairs, lounges and tables.
Apparently though, this is not enough for some individuals, as Mercedes has collaborated with South African designer Katie Thompson in coming up with an SL-themed furniture collection. Having established herself as an artist who recycles different objects to be repurposed into furniture, Thompson set her sights on turning a Mercedes SL's interior into office-worthy furnishings. For example, the SL's dashboard was turned into a desk, where the gauge cluster has been made into a magnetized pad and world clock, the air vents becoming business card holders, while the ignition module now houses a USB charger.
Perhaps one of the most appealing conversions has been the use of the SL's seat into an office chair. The form-fitting seat of the SL has basically been given a stand, with all the individual adjustments seemingly intact. And with the plush Nappa leather holding you in place, the hard-working executive is reminded of the rewards of his, or her, labor.