Ryan Joseph Ramos
October 21, 2012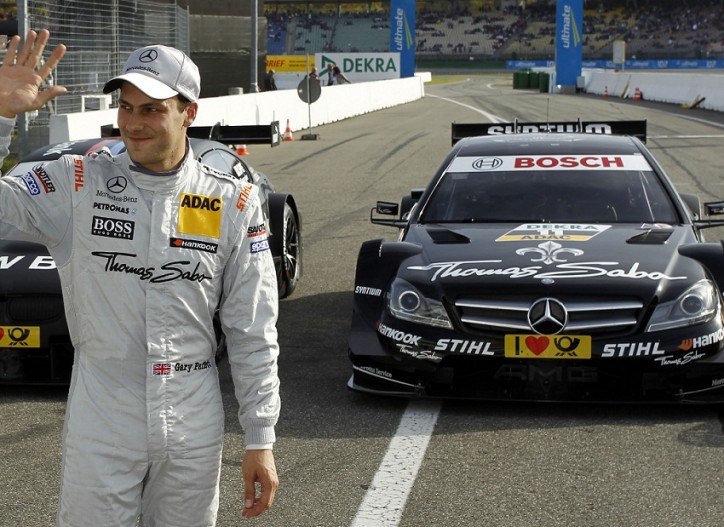 Mercedes-Benz driver Gary Paffett has been leading the drivers' standings of the 2012 Deutsche Tourenwagen Masters season since the first race, and he isn't about to let his title chances slip away now. The man behind the wheel of the THOMAS SABO Mercedes AMG C-Coupe managed to finish qualifying at Hockenheim in second place, allowing him to start in the front row of the final race of the season.
"Pole position was my goal, but still, I'm on the front row of the grid and so feel very relaxed about the last race of the season tomorrow," Paffett said. "Now I'm looking forward to an exciting and fair season finale. I've already won four races at Hockenheim and secured seven podium finishes, so I'm extremely optimistic about this last race of the season."
It's the eight time out of 10 races where a Mercedes car managed to qualify into the front row of the grid.
Augusto Farfus claimed pole position for BMW, while fellow BMW driver Bruno Spengler—the man chasing after Paffett and just 3 points behind in the standings—is at P3 to start the second race this season at Hockenheimring. Mercedes driver Jamie Green, who is third in the standings, will start at P10.
Mercedes drivers David Coulthard (P21) and Susie Wolff (P22) will be retiring from DTM after the race, so expect them to give it their all even from the last row of the grid.
"Tomorrow is my last DTM race and I will do my utmost to achieve a decent result for the fans and bow out in style," said Coulthard.
Wolff had the same sentiments. "I've had a great time in the DTM during the past seven years and am looking forward to my last race, where I will once again do my absolute best," said the driver of the pink Mercedes AMG C-Coupe.
Once again, count on us here at BenzInsider to give you the recap of the action.