Ryan Joseph Ramos
October 11, 2012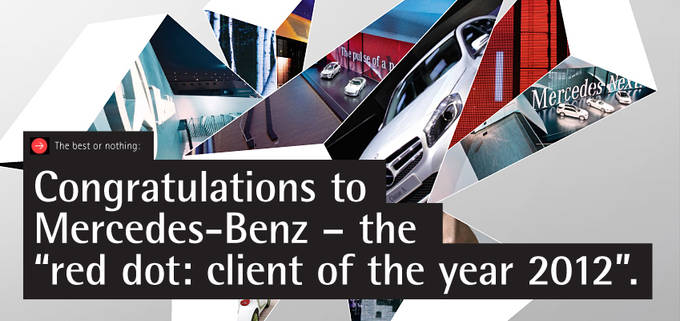 Thanks to the body of "innovative and leading-edge marketing and communications work" by Mercedes-Benz, the German automaker has been hailed as the red dot: client of the year 2012. The title will be handed to Mercedes-Benz on October 24 at the Konzerthaus Berlin, where the presentation will be the highlight of the red dot gala.
"We are delighted, and tremendously proud, to receive this accolade," said Mercedes-Benz Cars Head of Brand Communications Anders Sundt Jensen. "It is a great reward for us and our creative agencies after a year of intensive but ultimately successful hard work."
Several Mercedes-Benz vehicles received red dot product design awards this year, including the B-Class, C-Class Coupe, and the SLS AMG. The Actros truck was also awarded, and the smart eBike took home the "red dot: best of the best" award.
Essen-based Design Zentrum Nordrhein Wesfalen is behind the red dot design awards, which recognizes different design areas, including product design, design concepts, and design agencies. The awarding of the red dot: client of the year title started in 2010.