Ryan Joseph Ramos
October 18, 2012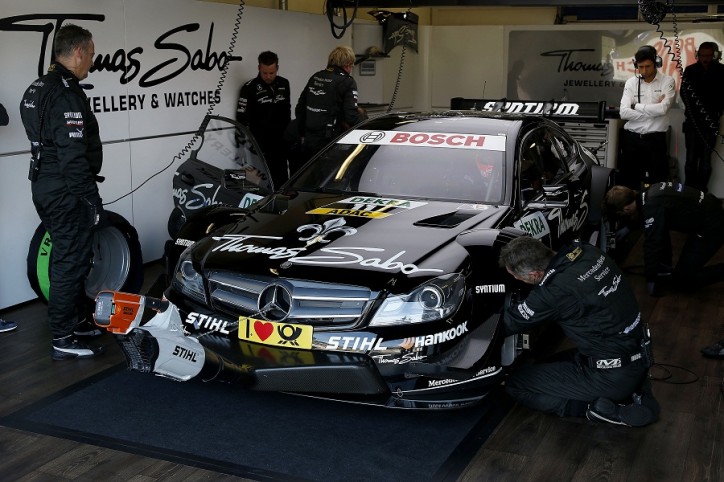 It all comes down to one race. This weekend, the winners of the 2012 Deutsche Tourenwagen Masters will finally be crowned, and fans should be treated to a tight race on Sunday. Gary Paffett is hoping to take his THOMAS SABO Mercedes AMG C-Coupe to victory, although it's not going to be easy with BMW's Bruno Spengler hot on his trail and fellow Mercedes driver Jamie Green also with a shot at the title.
Here's how the drivers' championship standings are right now: Paffett is leading at 127 points, Spengler is very close at 124 points, and Green has 109 points. Audi drivers Mike Rockenfeller (85 points) and Mattias Ekstrom (81) are at fourth and fifth, respectively. It would be quite shocking to see somebody else take the win this Sunday, especially when one considers that Paffett has led the drivers' standings all the way since his win at the first race, which was also at Hockenheim.
"In the past, Hockenheim has always been a good stomping ground for me—at no other track have I won more DTM races and finished so frequently on the podium as at the Hockenheimring," said Paffett, who has four DTM wins here (2004, 2009, 2010, 2012 opener). "I would like to be in contention for another win in the finale at Hockenheim and hopefully secure the championship."
For the team standings, Mercedes' Paffett-led HWA Team is leading BMW Team Schnitzer by 8, 151-143. The Mercedes AMG team of Jamie Green is at third with 117. Meanwhile, Audi's strong performances in recent races at Zandvoort and Valencia have allowed it to take the lead in the manufacturer's championship. It has 327 points, Mercedes has 296, and BMW has 286. It's wide-open at this point.