Ryan Joseph Ramos
October 7, 2012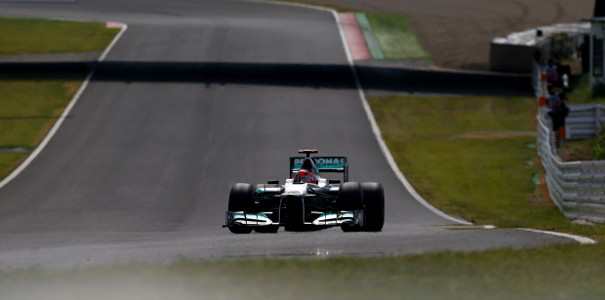 Michael Schumacher almost came all the way from P23 to earning a championship point, but had to settle for a scoreless eleventh-place finish at the 2012 Japanese Grand Prix. Mercedes AMG Petronas teammate Nico Rosberg never set a lap after a collision in the first corner that also knocked out championship frontrunner Fernando Alonso.
Schumacher got engaged in a tight matchup against the Toro Rosso of Daniel Ricciardo at the end, but the Australian edged him out by 0.85 seconds to claim the final championship point at stake in the race.
With Alonso getting eliminated, Sebastian Vettel won the race and inched closer to the lead in the championship race. Only four points separate him from Alonso now (190 to 194), with Kimi Raikkonen a distant third at 157 points. Felipe Massa took second place, and Kamui Kobayashi took the last podium slot. He also became the third Japanese driver to claim a podium finish, and he did it in his home race, to boot.
"I have mixed feelings after the race here in Japan, because it's obviously unfortunate to come so close to scoring points and not manage it, after a race which went better than we expected," said Schumacher. "
I had a good start to the race but unfortunately it ended fairly quickly today," said Rosberg. "In the first corner Grosjean spun into Webber and that also led to my accident. I began to brake but Senna crashed into me from behind which destroyed my rear tyre and meant that I had to retire."
The team is already looking forward to a stronger performance for the Korean Grand Prix, and hopefully, there will be some championship points gained next weekend.