Ryan Joseph Ramos
October 27, 2012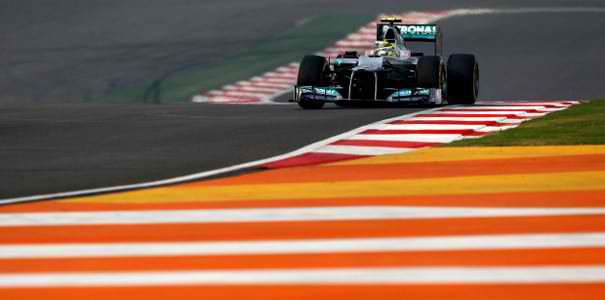 Despite pretty good practice runs, the Mercedes team was unable to capitalize in qualifying. Nico Rosberg settled for P10 on the grid for tomorrow's race, while Michael Schumacher was unable to qualify higher than P14.
Rosberg never set a time in the third part of qualifying, which set him up for the tenth spot. This was so that he could get a set of fresh tires for the race. "Of course it's not a nice feeling to be waiting in the pits and watching the others out there however," said Rosberg. "It seems that the race will be tough on the tyres with very long stints, so I should have an advantage compared to the cars in front of me."
Meanwhile, the Red Bulls took the front row on the starting grid, followed by the McLaren-Mercedes drivers in the second row, then the Ferraris in the third row, making for quite a neat arrangement and should allow for some exciting maneuvering action come race day.
Schumacher was clearly disappointed with the qualifying performance after posting solid times in the practices. He wasn't too thrilled with his "unpromising position" at the starting grid, but he said it simplifies things as far as his approach is concerned. "We have to look forward and battle hard."
Stay tuned for the lowdown on the race day action at the 2012 Indian Grand Prix!