Ryan Joseph Ramos
October 5, 2012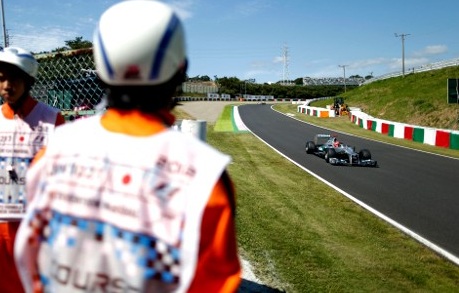 It wasn't quite the qualifying that the Mercedes AMG Petronas F1 team was hoping for heading into Saturday's trials at Japan's Suzuka Circuit. Both Michael Schumacher and Nico Rosberg posted times that were far from being enough to get them into Q3.
Schumacher qualified at 13th off his solitary Q2 run, but would slide all the way down to P23 when the race starts tomorrow. He got slapped a 10-place penalty after the incident  at the previous race in Singapore, where he collided with the Toro Rosso of Jean-Eric Vergne, causing both to retire for the race. Rosberg qualified at 15th but moves up to P13 on the grid thanks to the penalties handed out to Schumacher and Force India-Mercedes driver Nico Hulkenberg (from 10th to P14, 5-place penalty for gearbox change).
Meanwhile, the two Red Bulls were the big winners of the qualifying session, as Sebastian Vettel claimed pole position and teammate Mark Webber takes the front-row seat on the grid beside him. Jenson Button of McLaren-Mercedes took third but was slapped with a gearbox penalty, so he slides to P8.
It looks like it's going to be another tough climb from behind for the Mercedes drivers. Let's hope that the announcement of Lewis Hamilton joining the team next year to take over Schumacher's spot isn't becoming a distraction.