Emmanuel P
September 3, 2012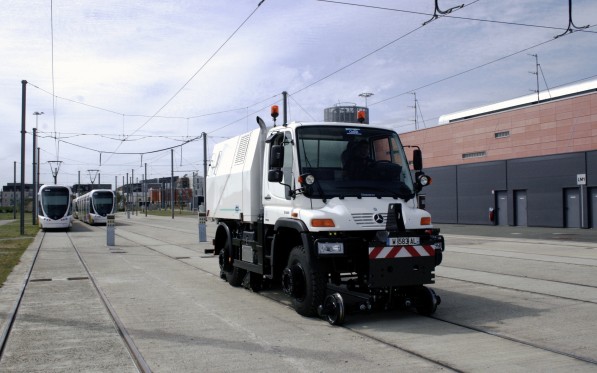 With winter coming up, railway companies in Germany and the rest of Europe will look to its fleet of shunting and clearing vehicles to once again do yeoman's duty in keeping trains on schedule. Unimogs have long been a favorite of operators for their rugged dependability, and Mercedes recognizes this.
For the 9th edition of InnoTrans in Berlin (the leading global trade show for the railway industry), Mercedes-Benz is exhibiting new configurations for Unimogs on rails. What should particularly interest industry executives and engineers is the Unimog U400's adaptability as a shunting vehicle that can do double duty as a snow-clearing vehicle. This adaptation was developed by designing a new addition to the powertrain that is in effect a crawler gear that allows the Unimog to move forward at a very slow speed. This very same innovation also allows the U400 to pull heavy loads, such as a rail car or other loads of up to a thousand tons. As a snow clearing vehicle, the Unimog can be fitted with a blower designed to match the U400's capabilities, which gets its power from a power take-off shaft at the front of the truck. Employing a quick-change mechanism allows the Unimog to be reconfigured easily for shunting, snow clearing or even as a road vehicle in a matter of minutes.
This reconfiguring into a road vehicle does not take much effort, because Mercedes has designed this particular Unimog variant to use roadgoing tires for its railway work. According to Mercedes, the friction coefficient for rubber on steel is much higher than steel on steel. Matching the various railway track widths employed by different countries does not pose a problem. Mercedes says that it delivers from 80-100 dual mode Unimogs annually to various railway companies. For the companies themselves, the initial price may be higher, but with the Unimog's legendary durability and reliability, plus the U400's consumption of 6 liters per 100 km, it is money well invested.