Muamer Hodzic
September 18, 2012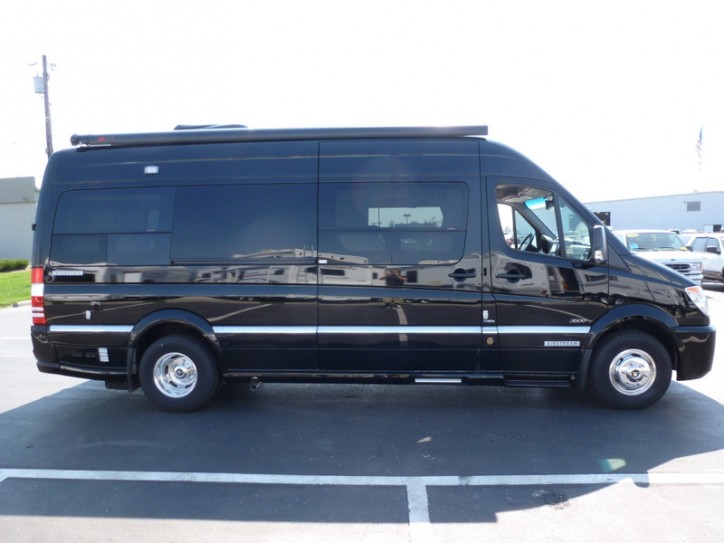 The new Interstate 3500 from Airstream is a luxurious new recreational vehicle tailored to the high-end consumer. In contrast to the bulky, stereotypical style of conventional RVs, the sleek Interstate 3500 is a generously outfitted dwelling on wheels that keeps travelers comfortable on overnight trips away from home. The vehicle's powerful roof-mounted air conditioner, rated at 13,500 BTU, keeps the interior constantly cool. While many class B motorhomes are built on chassis made by Dodge, Ford or GM, the Interstate 3500 is based on the Mercedes-Benz Sprinter Chassis, and its many luxurious features shine through, as one might expect.
In contrast to many RVs built with American engines, the Interstate 3500 runs on a modest 3.0 liter turbo diesel with inter-cooling that produces just 188 horsepower. Conversely, the van's torque is quite powerful at 325 foot pounds, giving it impressive maneuverability on the road.
Of course, bringing the Airstream up to speed from a stop is slow compared to sporty sedans, for example. This is in part due to the vehicle's generously outfitted interior, which comes complete with a two-burner stove, microwave, mini-fridge, 19-inch flat-screen television, kitchen sink and a bathroom that includes a shower. The heavy-duty Corian countertop and 32-gallon freshwater tank also slow the Airstream down a bit. Once these more than 8,000 pounds of luxury start moving, however, acceleration is very responsive, especially as the turbo kicks in.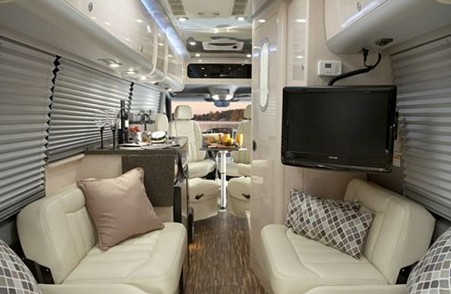 The Airstream Interstate 3500 cruises along at only 2,500 rpm at 65 mph, and 18 mpg is quite possible from the vehicle's 26.4 gallon diesel tank. While the Airstream's height can cause some uneasiness on the road in high winds, and its considerable length is something to watch during turns, the van's fairly easy for most drivers to handle at legal speeds. Ride quality is generally excellent, but highway driving sometimes causes the back of the van to vibrate, making naps in the back uncomfortable at those times. When it's time to park the Interstate 3500, many drivers have to adjust to the vehicle's strange dimensions at first, but a rear video camera effectively replaces a rear-view mirror. Up to eight guests can ride and relax inside, and the front captain chairs turn around toward the main area for entertaining. There's only room for two sleepers, however, making tents or other accommodations essential when more than two people are traveling in the Interstate 3500. Travelers can easily run computers or other accessories from the power provided by two 12-volt batteries or use even more power from the 2.5 kW generator that's included, and buyers can also opt for a 50-watt solar panel.
The Interstate 3500 is an efficiently comfortable way to travel that includes plenty of Mercedes luxury. Its European style puts a unique slant on the traditional recreational vehicles that many Americans are accustomed to. Its smaller size gives consumers additional fuel mileage, making this six-wheeled recreational vehicle eco-friendly and maneuverable. With the Interstate 3500, Airstream has delivered a new traveling lifestyle to consumers in the form of eco-friendly, ultra-modern camping enjoyment.