Muamer Hodzic
September 27, 2012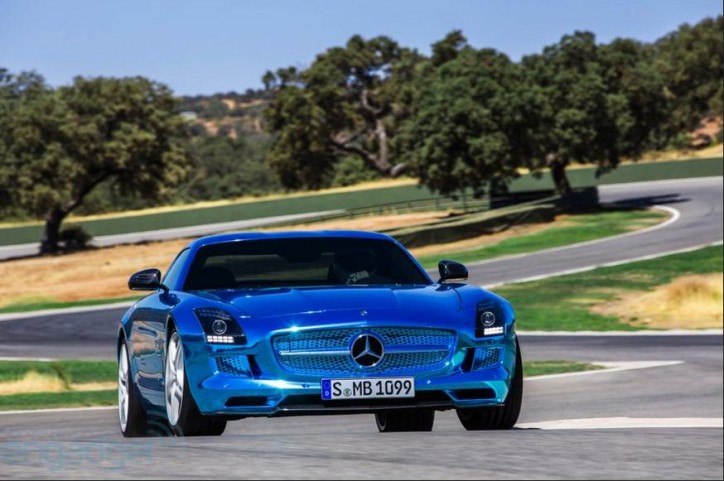 Several years ago we were promised a revolution. That is to say that Mercedes-Benz promised to put an electric version of the AMG SLS Gullwing into actual production. There have been several concept cars unveiled since then, but nothing solid to go on. At this year's Paris Auto Show however, Mercedes have given us the first look at the real production version. It's impressive.
The car's full title will be the Mercedes-Benz SLS AMG Electric Drive. It's no wimpy electric car though; this fully fledged AMG supercar has 740 horsepower and will launch itself from 0 to 60mph in less than 4 seconds. It's also got a ridiculous 737lb/f of torque. These statistics will make the Merc the fastest and most powerful production electric car in the world, though not the fastest SLS. Top speed will be, of course, limited to 155mph, but Mercedes-Benz anticipates that this will be reached easily.
As for the electronics, the car will have a battery that should last for more than 150 miles on a mixed cycle of driving, and a full charge will take around 20 hours to achieve. These aren't brilliant statistics, and are the main reason we aren't seeing more electric supercars, but it's encouraging at the very least. Hybrid cars are currently more popular, and you can visit Comparecontracthire.com for car leasing in the UK if you're looking to lease one.
We've already said that this won't be the fastest SLS, but it could well be the best handling, due to the all-new AMG Torque Dynamics system, which incorporates one motor per wheel. It has been developed alongside the Mercedes-Benz F1 team. Carbon ceramic brakes will also feature on this car, which is heavily modified from the original.
The SLS Electric Drive will feature a carbon fibre monocoque body, something which is becoming ever more common in supercars. It should make the car much lighter than the regular models, somewhat compensating for the extremely heavy battery pack.
Looks wise, the Electric Drive doesn't appear much different from the other models.  The interior is almost identical, and the outside has a slightly different grille, and most importantly, no visible exhaust tips. Released images show the car in a striking metallic blue, which does seem to suit the car, and reflects its eco-credentials.
The car is going to be launched in 2013, so there could yet be some minor changes.  Currently, there are only plans to release the vehicle in Europe, but if it proves to be popular, then that may well change. Success of the Fisker brand may well tempt some of the big European marques to bring their economical supercars to the US. Price wise, those lucky enough to get hold of one of these revolutionary cars can expect to pay around the €417,000 mark. Not quite good enough to be worth the increased economy, but it's a start.
If you're after some Mercedez-Benz power, and you're on a budget but don't mind sacrificing some economy, then go to www.s1cars.com to find the best used cars in Scotland online. You can buy used SL500s at amazing prices.