Ryan Joseph Ramos
September 19, 2012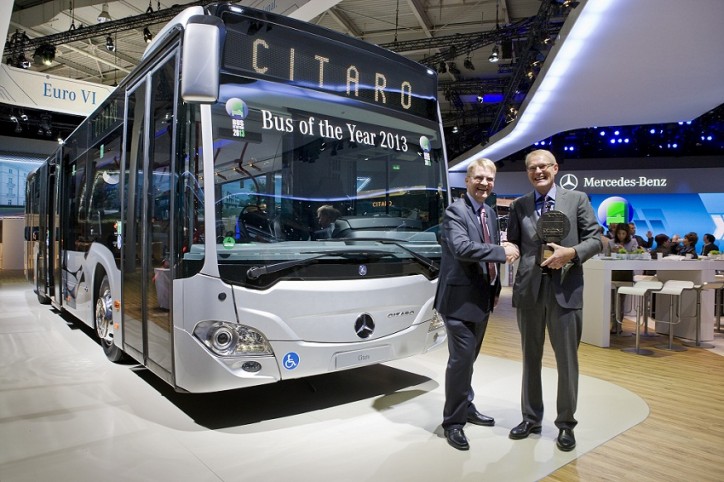 Thanks to its innovative approach that focuses on safety, efficiency, and eco-friendliness, the new Mercedes-Benz Citaro (Euro VI engine variant) was awarded as the Bus of the Year 2013 by an international jury. The bus is the first production model that already incorporates the tech needed to meet Euro VI emissions standards.
The Citaro Euro VI beat out competitors that mostly fielded hybrid-equipped candidates. The Mercedes-Benz bus impressed the experts with its next-gen BlueEfficiency Power engines with AdBlue fuel injection and its emission control system that has a catalytic converter that has an exhaust recirculation system and a particulate filter.
Even with the new tech that the Citaro Euro VI incorporates, Mercedes-Benz was able to retain the space within the bus as well as the weight of the unit. This way, performance and convenience is not compromised at all.
"Our prime concern when developing the new Citaro was that we should be able to match economy and efficiency with corresponding gains in performance, safety and comfort," said Daimler Buses head Hartmut Schick.
New safety features included a fresh crash element that is designed to keep the driver safe in the event of a collision. As a whole, the new Citaro bus was also designed in order to meet ECE R 66/01 safety standards that will take effect sometime in 2017, showing just how future-proof this bus model is.
Another factor that accounted for the new Citaro's win is its design, thanks partly to the fresh rear frame designed to accommodate the new engines and redesigns of other elements like engine flaps and lighting component clusters (that feature LED lights for added efficiency).
Of course, you can't win a Bus of the Year award without providing excellent comfort for the passengers. From the interior lighting to the design of the grab rails, the Citaro scored high in terms of passenger comfort.