Ryan Joseph Ramos
September 14, 2012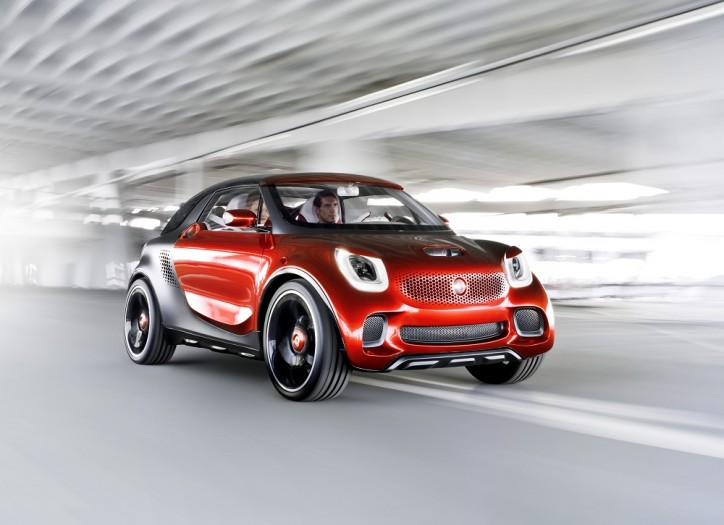 If you think being a manufacturer of electric vehicles means churning out model after unimaginative model, you just need to look at the latest concept car from smart. This is the smart forstars concept, which is slated to make its debut at the Paris Motor Show starting on the 29th of this month.
The forstars is a Sport Utility Coupe, or SUC for short. What this means is that the car gets ample room for a couple of people as well as their cargo. It also adds a dash of flavor into the existing designs in the smart lineup, although you might see the resemblance between this concept and the smart for-us concept pickup showcased by the brand at the Detroit Auto Show earlier this year.
Why the name? According to smart, it's a reference to the video projector that is fitted into the front bonnet of the concept vehicle. This way, "film stars" can share their work anywhere, anytime—like, when stuck in the middle of nowhere, maybe. The name also references the glass roof that should provide for an excellent view of the stars in the night sky.
The concept model comes in a color called "alubeam rouge" with a generous addition of matte titanium and black for the accents. Hese are complemented by rhombus-shaped front and rear lamps, and the front headlamps are accented by "eyebrows," helping the front achieve a structure that is similar to a smiling face, giving the forstars an assertive yet friendly appearance. The interior comes with mother-of-pearl furnishings accented by brushed aluminum and some alubeam rouge as well.
Of course, it's the insides that really define this as a smart-branded car. It packs a 60kW magneto-electric motor that we've seen on the smart BRABUS electric drive. Top speed is stated to be over 130kph, and the lithium-ion battery supports 17.6 kWh of capacity.
"The smart is Europe's most inexpensive series-produced electric car," said smart head Dr Annette Winkler. "Not only is it emission-free and fast, it is also possible to conveniently set the perfect interior temperature in advance with a smartphone, and it is simple to charge at a domestic socket. What's more, with its powerful battery and integrated projector the smart forstars can transform any grey backyard into an animated open-air cinema."